Architectural Programming: Establishing a Vision for Your Building Project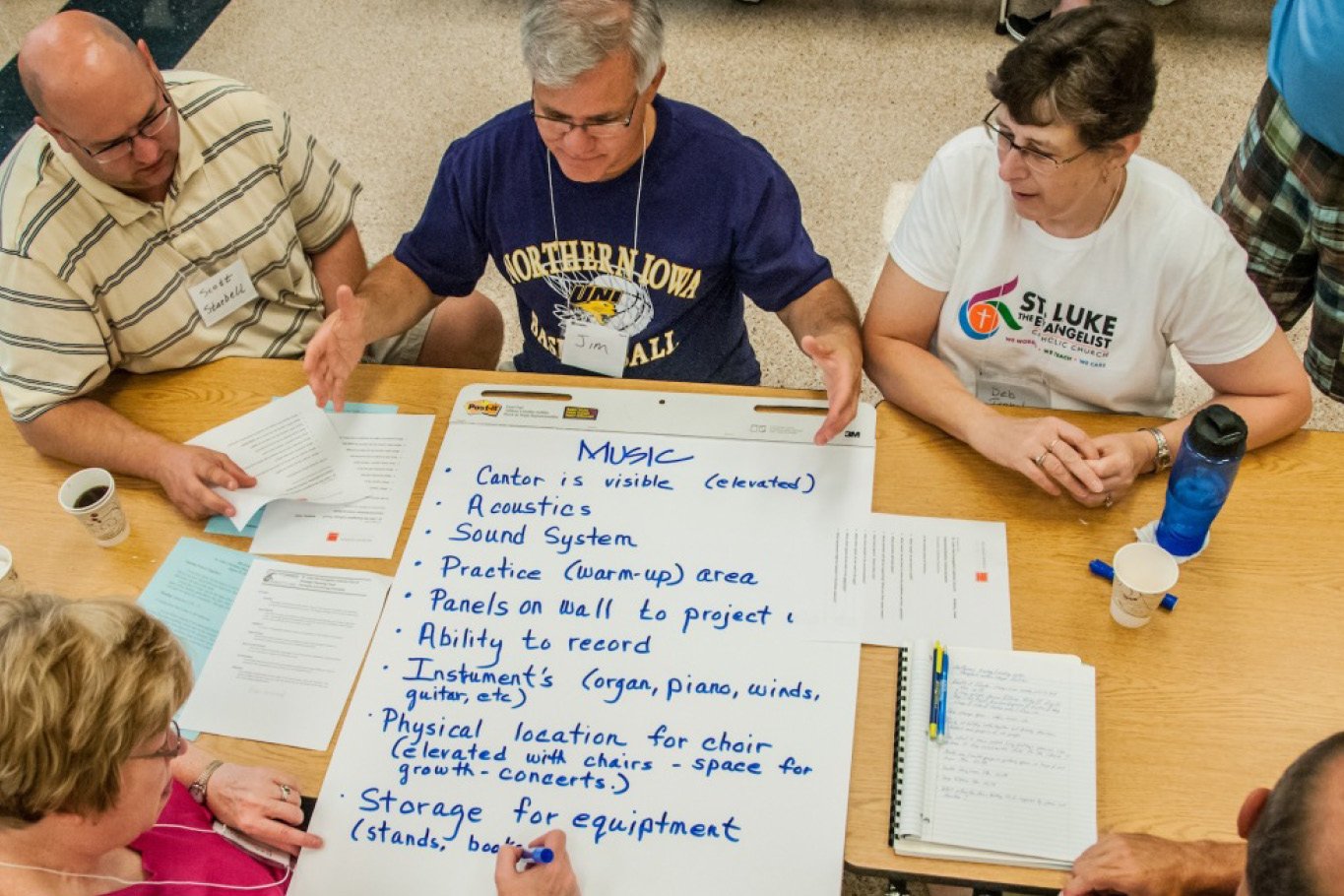 Some building owners enter a project with a clear idea of what they want and need. Others have no idea where to begin. How do you explain to your architect what you need when you don't have the slightest clue?
The answer lies in the programming process. A "program" is an architectural document that identifies the types of spaces you need and their sizes. This document becomes the foundation of the design process, helping your architect explore options and budget costs.
At Neumann Monson, we see programming as a chance to engage stakeholders and form a collaborative client partnership. We aim to lead a journey that helps you discover your needs, explore possibilities, and form a vision for an impactful project.
In this article, you will learn the three steps of the programming process:
Discover Challenges and Opportunities
Define Goals
Balance Goals with Budget
By the end of the article, you will know how programming helps your organization establish a vision and estimate costs—leading you to a completed document that outlines the components of your building.
Three Steps of the Programming Process
1. Discover Challenges and Opportunities
Programming begins with engaging stakeholders and discussing their needs and wants. To get started, you may complete a user-needs survey that gauges how you use your current space.
The survey may include questions like:
What activities do you do every day?
How do you work?
How much storage space do you need?
How do you currently use storage space?
Along with the survey, you may complete an empathy mapping activity. Empathy mapping is a process of creating "personas" for various people in your organization and walking through their experiences.
For example, on a commercial office project, you could create personas for different teams and departments, like your facilities staff or IT department.
Like the user-needs survey, you will answer various questions related to these individual's daily experiences, including:
How do these individuals work?
Do they collaborate with other departments?
What kinds of problems are they facing?
What kind of amenities would help them?
By placing yourself in another person's shoes, you will learn how the building will impact other members of your organization. Depending on the project, we may couple this activity with benchmarking tours and visual listening exercises. With both activities, you will view other building projects and openly discuss your thoughts and opinions.
Learn more about these activities by reading our overview of visioning workshop activities.
Transforming Your Organization
The goal of these activities is to help you discover the challenges you are having with your current space and form a clear vision of how you would like the project to change your organization.
Continuing with the office example, you may currently work in a crowded space divided by cubicles. The cubicle set-up makes it difficult to interact and collaborate. When people attempt to interact, noise travels easily, making it difficult for others to concentrate.
You may wish to be a more transparent organization that can easily interact and share ideas throughout the workday. At the same time, you want to minimize distractions for those who need a quiet, "heads down" environment.
By walking through your daily experiences in your work environment, you can start to form a clear vision and develop a program.
2. Define Your Goals
After discovering your challenges and opportunities, it's time to define your goals as quantifiable spaces.
Going back to the office example, you may decide to dedicate a portion of your space to collaboration and a portion to quiet, private work. You may also decide to include amenities like a break room, wellness room, and fitness center.
Working with your architect, you will discuss how much space you will need for these components. For example, should you have more collaboration space than private space, more private space than collaboration space, or should it be about equal?
You may also discuss the proximity of spaces. For example, if your organization has two teams or departments that collaborate frequently, we may need to place them close together. We will also want to place these teams away from the quieter portion of the office.
Although we are far from mapping out a design, discussing these details will help us determine how much space you need. Your architect should aim to find solutions that unify your goals into a single design.
3. Balance Goals with Budget
With a thorough understanding of your goals and a clear list of spaces, your architect can analyze the program and provide a cost-per-square-foot estimate. To start, your architect will look at historic data and determine the right size for each project component.
Going back to the office building example, your architect may determine that you need 160 square feet per person and a 2:1 collaboration-to-private-seating ratio.
Your architect will also analyze your net and gross square footage. Net square footage is the "inside the walls" space where you will be working and living. Gross square footage includes all the other necessary components of the building, including wall depth, structural supports, circulation spaces (stairs and elevators), and mechanical rooms.
After determining the size of these components, your architect will refer to historic data on similar building types and provide a cost-per-square-foot estimate. If the estimate is too high, the architect will brainstorm new solutions.
To align the program with your budget, some project components may need to be removed. Others may need to be scaled back. Through this process, your architect will work to find solutions that fit your budget while maintaining your project's goals.
What Happens Next?
Architecture is like baking. The program acts as the ingredients list, and the design is the recipe.
The first step of the process is determining which ingredients will lead to the right recipe—and balancing those ingredients with your budget. Your architect is aiming to produce a delicious and satisfying final product, even if some ingredients are reduced or removed.
If you don't know what you want or need, do not worry. Through this three-step programming process, you will get the opportunity to explore possibilities and form a cohesive vision. By the end, you will have a list of quantifiable spaces that will form the foundation of your project.
Now that you have a better understanding of the programming process, learn how the program will develop into a design by reading our guide to the architectural process.
To learn more about our approach, contact Neumann Monson and schedule an exploratory meeting with a project manager.