Empathy Building Activities in Pre-Design

The architectural process starts by exploring ideas and setting goals. There are thousands of decisions on a building project, and your goals should influence each.
To help you set goals, your architect will lead your team through a series of activities and workshops. These activities occur in the pre-design phase and can involve anywhere from a few individuals to hundreds of stakeholders.
At Neumann Monson, we use several activities that help clients articulate their needs, understand the needs of others, and build consensus. These activities include:
Visioning workshops

Client-led empathy mapping

Problem-solving activities

Visual listening exercises

Benchmarking tours
Not every project goes through the same pre-design process, and we will recommend different activities based on your organization and needs.
This article will break down the potential activities you may encounter during pre-design and explain how they help form an overarching vision for your project.
Visioning Workshops
A visioning workshop involves a large group of stakeholders who represent a cross-section of your organization. It is an opportunity to hear from those who will occupy the space daily and set high-level project goals.
Typically, these workshops start with a small group activity where occupants discuss the challenges of their current space and what they need from the new building. They will share their thoughts with the large group, helping everyone understand the needs of others.
Toward the end of the workshop, attendees will establish priorities that will factor into your project's program of spaces.
Client-Led Empathy Mapping
Various individuals occupy buildings—and many may be outside your project team or building committee. To better understand everyone's needs, we may use empathy mapping in a pre-design workshop.
Empathy mapping begins with creating a persona for someone occupying the completed space. For example, on a hospital project, you may create personas for patients, their family members, and the staff.
Working in groups, you will walk through these individuals' experiences by asking questions like:
What are their pain points or the problems they are experiencing?

What kinds of emotions are they experiencing?

What are their aspirations and goals?

What types of amenities do they need?
This exercise helps you understand the importance of various design decisions by imagining the building from another person's perspective. It also helps your architect broaden their understanding of the buildings' end users.
Problem-Solving Activities
Problem-solving activities are an opportunity to build consensus within a group. Typically, we use this activity for large, diverse groups utilizing the same space, like religious congregations or commercial clients.
In small groups, attendees will discuss a problem they have with their current space and work together to find a solution. After, they will discuss their solution with everyone in attendance.
The activity helps attendees better understand the needs and challenges of everyone in the organization. It also helps everyone imagine different ways of approaching a problem, and often, these ideas work their way into the design solution. Everyone walks away feeling a stronger sense of ownership of the outcome.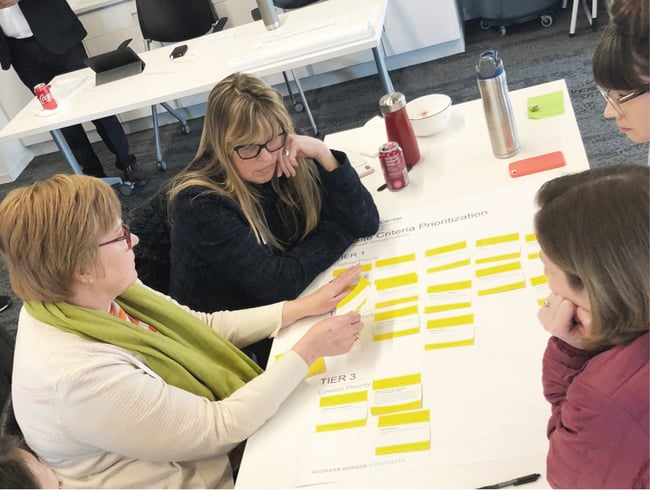 Workshop participants engaged in a problem-solving activity.
Visual Listening Exercises
Visual listening exercises are an opportunity to express your opinions about specific design decisions. With this activity, your team will view images of precedent projects—buildings like the one you plan to build.
The goal is to collect initial reactions and help your design team better understand your likes and dislikes. In an in-person meeting, participants will vote with stickers, placing green dots on images that provide positive reactions and red dots next to negative ones. When done virtually, votes can be tallied in real-time.
Ultimately, the activity provides a visual representation of everyone's reactions, helping you reach a group consensus about the look and feel of your project.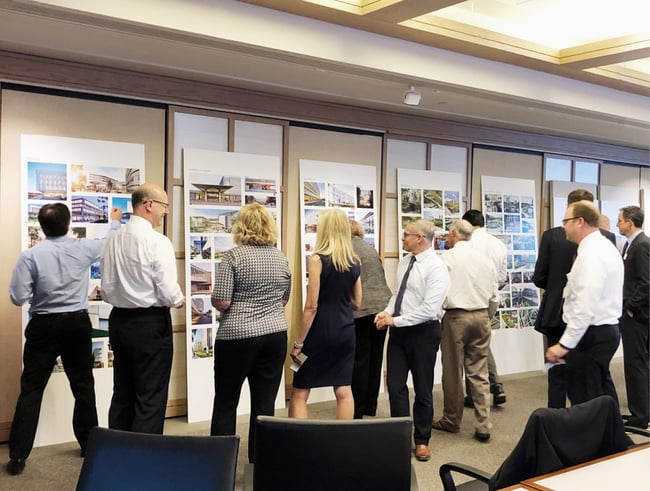 Workshop participants voting on precedent projects.
Benchmarking Tours
Images do not do architecture justice. To truly understand your needs, it helps to visit buildings in person.
Benchmarking tours involve visiting facilities like the one you are planning. On the tour, you are encouraged to express your opinions freely.
Some opinions may be easy to describe. For example, you may like the color palette or flooring material. Others may not be less concrete. Some spaces may just not "feel" right.
Your architect's goal is to understand the reason behind your opinions and translate these often difficult-to-describe thoughts into design solutions. By seeing your reactions, your architect is better able to create a space that aligns with your organization's values, goals, and identity.
Benchmarking tours also allow you to talk to the building's occupants. This is a chance to learn from their experiences and learn how their decisions have impacted their daily operations.
Learn More About Pre-Design
Pre-design is a time to gather information, discuss your needs, and establish overarching project goals. The pre-design process differs from project to project, and depending on your needs, your architect may recommend a different combination of workshops and activities.
The goal of these activities is to build empathy—to help everyone better understand the experience and needs of others. Your team should walk away knowing their voice was heard.
In addition to these activities, pre-design may include supplemental services to help you understand your needs, including site selection. Learn more by reading about how your architect can assist with the site selection process.