Factors to Consider Before Investing in Solar Power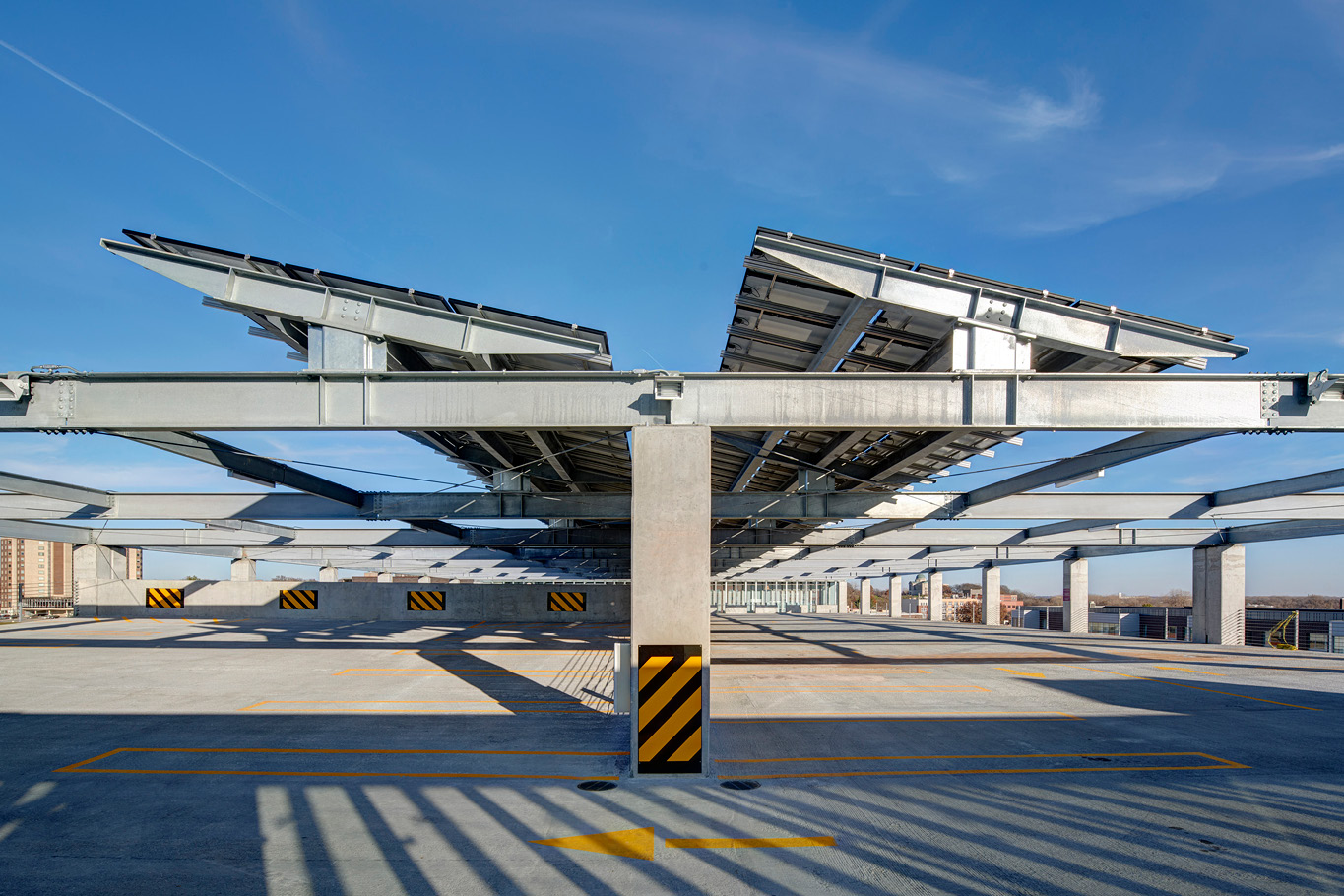 Solar power offers many benefits. Whether you are a commercial building owner, a developer, or a public organization, investing in solar panels can help reduce your carbon footprint and utility costs.
Although solar panels have become more affordable in recent years, they are still a major investment. Establishing priorities with your architect and finding solutions that align your needs with your budget is the best way to get the value you need.
In this article, you will learn about three factors you should consider before investing in solar power:
Energy use and feasibility
Cost and financing
Resiliency strategy
After reading, you will be better prepared to have conversations with your architect about solar power and determine if it is right for your project.
3 Factors to Consider Before Purchasing Solar Panels
1. Energy Use and Feasibility
Before investing in solar, determine how much power you want to produce. Everyone will have different priorities. Some building owners want to produce a portion of their power through solar, while others want to achieve net-zero energy.
Whatever your goals, discuss them with your architect in the early phases of the design process and determine their feasibility. Your architect should design your space to maximize energy efficiency and reduce your electricity consumption. Your architect will also analyze your Modeled Energy Use, the amount of energy your facility will produce.
With this data, they will determine how many solar panels you will need to reach your goals, along with the feasibility of placing them on your site.
Depending on the constraints of your space, you may use ground-mounted arrays, roof-mounted arrays, or a combination of the two. Ground-mounted arrays, like those used at Unitarian Universalist, are easy to access but require extra space on your property. Roof-mounted arrays are well suited for denser areas with limited space.
After determining how many panels you need, your architect will explore design solutions for your site. For example, the Stanley Center for Peace and Security needs to produce 105% of its energy needs to meet the requirements of the Living Building Challenge. Reaching these goals on an urban site requires solar overhangs, including one over the neighboring alley.
2. Cost and Financing
Over the last decade, the cost of solar panels has decreased, reaching a level where solar is now competitive with other forms of power. Despite this price decrease, solar power is still a sizable investment, especially for those with a limited budget. We recommend weighing the initial costs against long-term costs and exploring financing options.
Purchasing panels upfront is often the most economical decision. Eventually, your utility savings will provide a return on your investment. If your budget does not allow for an upfront purchase, you can pay for the panels over time. Several funding options exist, including Power Purchase Agreements or Capital Leases.
A Power Purchase Agreement involves a developer purchasing the panels and selling the generated power back to you at a fixed rate. With a Capital Lease, you will finance the panels in monthly installments.
Depending on your location, these options are often less expensive than a typical monthly utility expense. Both options, however, have a higher long-term cost than purchasing the panels outright.
Long Term Planning
Prices for solar panels are constantly changing. If the current price is beyond your budget, you can plan for future installation. Your architect can design options for both solar power and more traditional forms of power, so you are prepared if the price lowers by the start of construction.
Your architect can also design the building to accommodate a future retrofitting for solar power. Discussing these possibilities early in the design process will allow your architect to develop concepts that fit your needs.
3. Resiliency Strategy
For many, solar power represents self-sufficiency. The idea of having an on-site power source that continues running in the event of a natural disaster is certainly enticing.
Solar power, however, is not completely self-supporting. Panels are tied to the central power grid and will not work by themselves in the event of a power outage. However, you can add battery backup to your solar system and store power for emergency uses.
Keep in mind: solar backup batteries can significantly add to the cost of your initial investment. Your architect can help you balance this additional cost by determining how many batteries you need to reach your goals.
Ask yourself:
Do you need to operate emergency lights and elevators?
Do you need to continue operations?
Are you planning to operate as a community shelter?
Discussing your goals will help you find a cost-effective risk management strategy. Prioritizing the most important aspects of your building in the event of an emergency can help find a solution that fits your budget.
What Are Your Next Steps?
As solar power becomes more affordable, many building owners are realizing the benefits. Regardless of your industry, solar panels can help you reduce your carbon footprint and save on the long-term costs of building ownership.
If you are considering investing in solar power, start the conversation with your architect early. Your architect can help you test the feasibility of your goals, explore financing solutions, and work to align your goals with your budget.
Now that you better understand solar power, learn how adopting a green building rating system can help you maximize your project's sustainability potential. To learn how Neumann Monson can assist with your project, contact us, and start a conversation with an architect.