How to Prepare for Your LBC Biophilic Exploration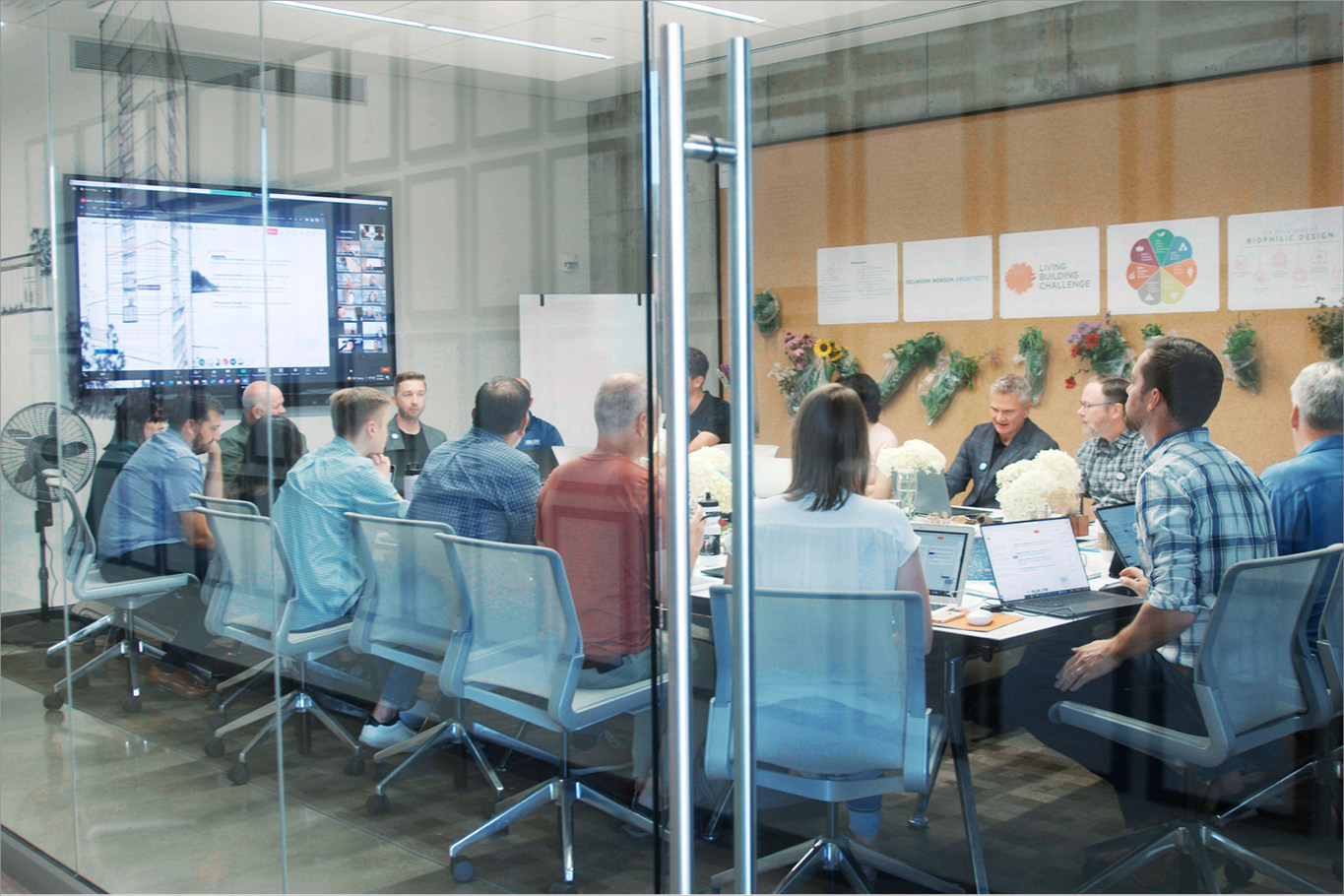 As the most rigorous measure for sustainable design, the Living Building Challenge (LBC) has many requirements. One of the requirements is an all-day, eight-hour Biophilic Exploration.
This collaborative workshop gives you a deeper understanding of your site and community, helping you develop a project that responds to local needs. It is also a chance to learn about biophilic design principles and brainstorm strategies for applying them to your project.
We've led the Stanley Center for Peace and Security through a Biophilic Exploration, and we've recently hosted one for the redesign of our Iowa City studio. In our experience, a successful Biophilic Exploration requires planning and coordination. Design teams and clients should work together to ensure the right voices are in the room.
This article will explain how you can prepare for the LBC Biophilic Exploration by discussing who to include and how to set expectations with your team.
Invite Local Experts
Before your Biophilia Exploration, contact experts outside your project team and organization. The Exploration should occur early in the design process. The goal is to brainstorm ideas and create a framework that guides future design decisions.
Outside expertise can give you a deeper understanding of your community and help you think outside the box. The International Living Future Institute (ILFI), the organization that oversees the LBC, recommends experts like:
Ecologists/naturalists

Geologists

Botanists

Community leaders

Anthropologists

Local historians
You do not need to include everyone on this list, but you should select a well-rounded group that helps you understand your site, its history, and your area's culture. Your design team can help you bring the right voices to the table.
Include Building Occupants
In addition to outside expertise, include your building's occupants in the Biophilic Exploration. The workshop's attendees should represent your organization's leadership and those who will use the space daily.
Depending on the size of your organization, you may find it difficult to include everyone. In these situations, we recommend inviting a cross-section of stakeholders. Work to include individuals who can represent different departments, tenure lengths, or leadership levels.
Other occupants can give their input through surveys or asynchronous activities. For example, during our Iowa City Biophilic Exploration, occupants who couldn't attend the Exploration shared their thoughts through prioritization surveys and in an online collaboration space.
After the Exploration, share your findings with everyone. The goals you set in the Exploration are foundational to the project, so it's important to keep everyone informed and reach a group consensus.
Assign Homework
One of the main goals of the Exploration is to get attendees to connect their personal experiences with biophilic design. The workshop should give you a deeper appreciation of nature and help you understand how the project can contribute to the local environment.
Assigning homework can help attendees think about their connection to biophilia. For our Iowa City workshop, we had attendees share photos of experiences they've had in nature and discuss how those experiences have impacted them. The activity was asynchronous, allowing everyone to participate.
Work with your design team to find an activity that would work for your team. No matter what you assign, it shouldn't feel like extra work. The activity should get attendees out of the typical "meeting" mindset and spark their creativity, leading to a more productive conversation.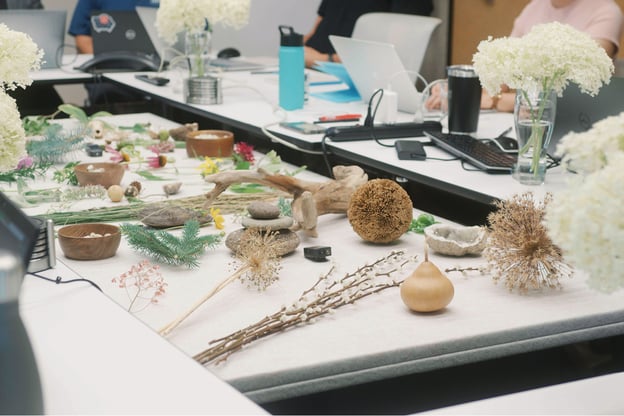 Find ways to get occupants to think about their experience in nature.
Keep an Open Mind
Above all, keep an open mind. The workshop is the start of the LBC process. Be ready to challenge conventional norms and processes. When you invite occupants, create an atmosphere where everyone feels free to voice their thoughts and opinions.
You don't need to have experience with design or architecture to contribute to the workshop. In fact, a "non-designer" perspective is a valuable part of the process. The Biophilia Exploration is a chance to think about nature and community and connect those thoughts to your building project (and honestly, it can be a lot of fun).
What Are Your Next Steps?
The LBC Biophilia Exploration occurs early in the design process. It is a chance to meet with local experts, brainstorm ideas, and set project goals. The result is a Biophilic Framework, one of the LBC documentation requirements.
The Framework lists biophilic design strategies you intend to implement on the project. Throughout the design process, this document will serve as a continually evolving reference point.
The Biophilic Framework is a key component of every LBC project, so be sure to coordinate with your design team to ensure the right voices are in the room.
Invite outside experts, include a cross-section of your organization, assign homework that sparks creativity, and keep an open mind. By following these steps, you are more likely to have a productive and inspiring experience.
To learn more about the LBC, read about its "petal" requirements.