We are pleased to announce our status as a Just Organization. The Just Program, provided through the International Living Future Institute (ILFI), assesses company culture in areas related to equity and social justice.
In
2020,
an undeniably challenging year of our nation, we used Just to look inward and make a difference externally.
Participating in Just is one component of Neumann Monson's larger, ongoing effort to drive positive change in our work, communities, and the world at large.
The ILFI provides communities and organizations with the tools to create a more "socially just, culturally rich, and ecologically restorative world." Their Just Program helps companies improve equity and employee well-being. Specifically, the program assesses areas like diversity and inclusion, equality, employee health, employee benefits, and stewardship. By participating in the program, companies receive a "nutrition label" that summarizes how they perform in these areas and where they can improve.
The "nutrition label" is a straightforward, easy-to-understand document, allowing companies to easily share their results with the public. This increases public transparency and helps inspire other companies to participate in Just, creating better workplaces for all.
The workplace is not immune to inequality. According to the National Equity Atlas, people of color earn a staggering 22% less than their white counterparts. The gender pay gap is still not zero according to PayScale, and the national wage gap, regardless of gender or color, has widened dramatically in recent decades. Full-time employees in the 10th percentile have earned 12% less since 1980, while the top 90th percentile has earned 20% more. It's time companies make equity a top priority.
Economic inequality is one part of the equation. To commit to social justice, companies need to look at the larger picture and find ways to improve their employees' work/life balance and their engagement with the community.
Just provides a holistic assessment of company culture and examines employee health and civic participation in addition to financial compensation. Whether enhancing HR programs or deepening employee engagement, Just helps us meet the challenges of today's world.
At Neumann Monson, we are striving to drive positive change—through the work we do and the way we do it. The start of our journey begins with becoming a Just organization and transparently outlining our policies for our team and the public to see. Compared to other US architecture firms, we excel in many areas, but there is always room for improvement. As we continue to push forward in 2021, we will strive to improve our practices and encourage other organizations to follow suit. See our "nutrition label" here.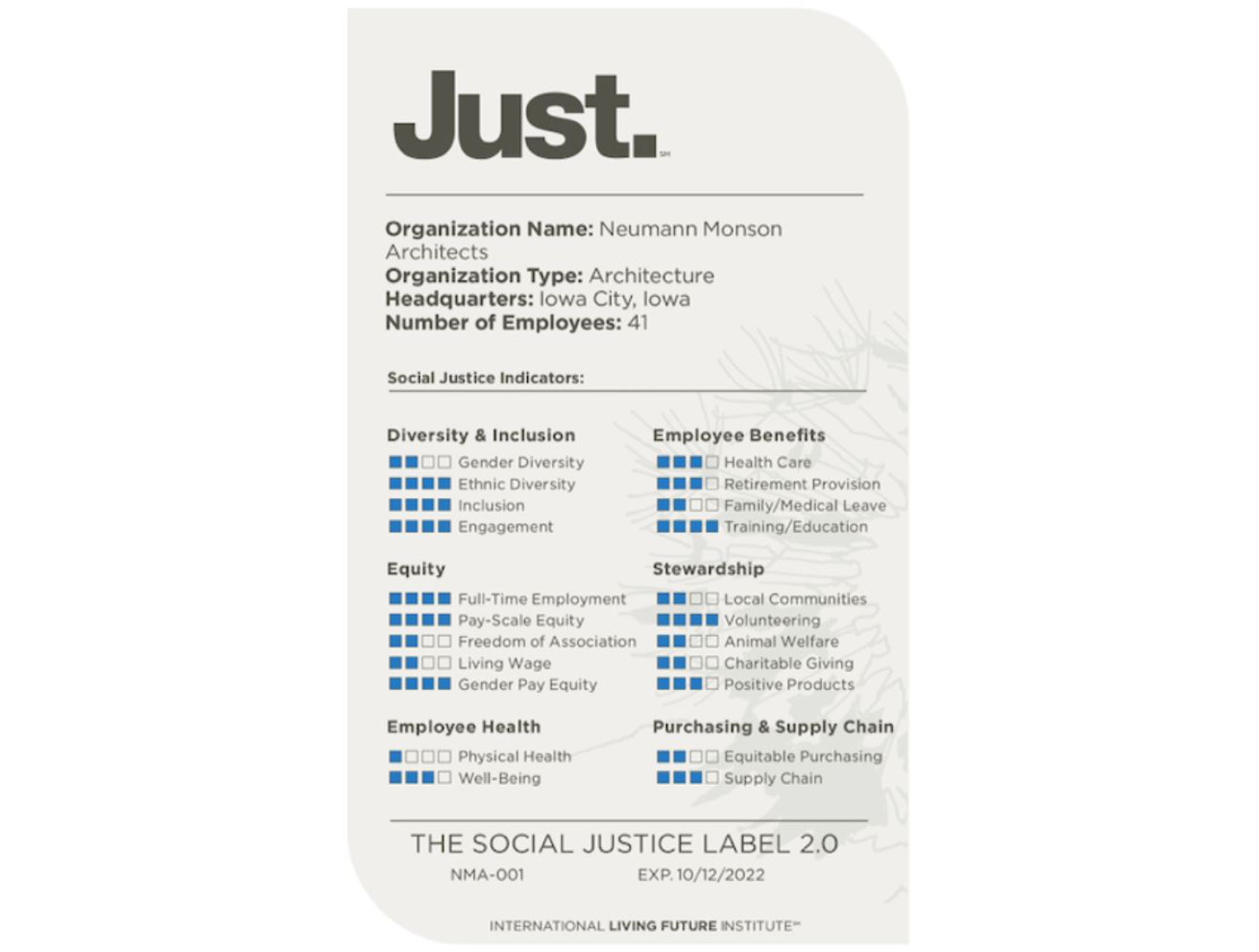 Although our journey to become a more just and equitable organization is far from over, we know that we are headed in the right direction and are encouraged by the changes we are making. Lately, the team has been brainstorming ways to improve our Just score, particularly our physical health score.
In addition to providing reimbursement for gym memberships, we are planning to participate in a CDC Health Assessment and launch an employee health program. Just recognizes that health comes in many forms and advocates for work environments where employees feel safe, supported, and energized. We want to make it easy for our employees to make healthy choices and include everyone in the effort.
We are also pursuing ways to drive positive change in our communities by participating in other challenges offered through ILFI. The Stanely Center for Peace and Security in Muscatine, Iowa aims to meet the standards of ILFI's Living Building Challenge, the most rigorous standard for sustainability.
To meet these standards, the Stanley Center must produce 110% of its energy and offset its water usage, all while engaging the community in a positive, productive way. Sustainability is one of our top priorities, and we are thrilled to work with this like-minded, mission-driven client.
Programs like the Living Building Challenge and Just encourage us to reach new heights and improve our relationship with both our employees and the community. We encourage organizations everywhere to participate in this voluntary program to assess their equity and learn how they can improve. Together, we can create a better future for all.