What is the Living Building Challenge's Biophilic Exploration?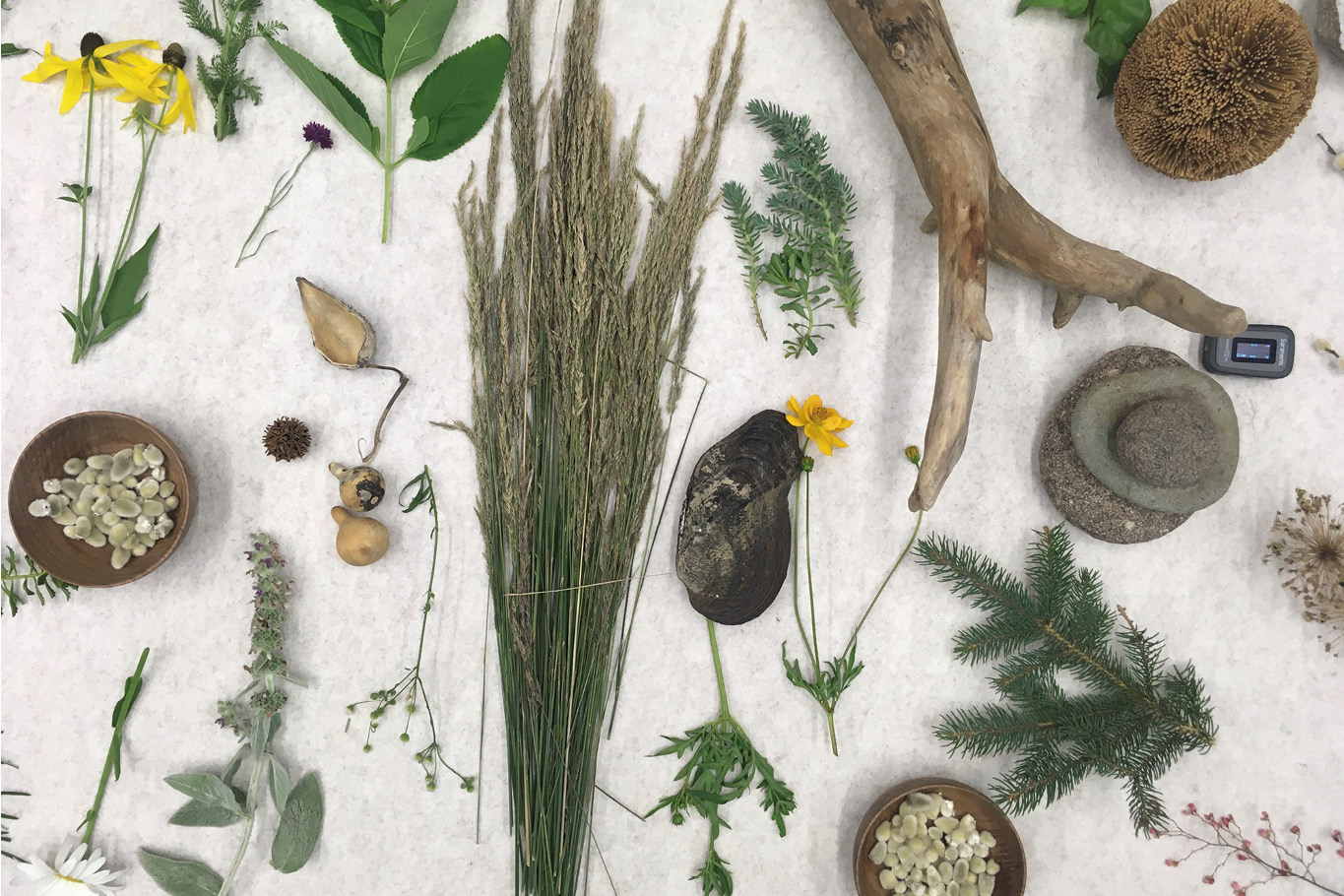 The Living Building Challenge (LBC) is the industry's most rigorous measure of sustainable design. Its requirements lead to net-positive buildings that benefit occupants, the community, and the environment. One of the ways the LBC accomplishes these goals is through biophilic design.
If you are undertaking an LBC project, you and your team will participate in an all-day Biophilic Exploration. This collaborative workshop gives you a deeper understanding of your site, its ecology, and its history, leading to a framework that guides design decisions.
We have led the Stanley Center for Peace and Security through a Biophilic Exploration and recently hosted one for our Iowa City studio renovation. In this article, we will explain the workshop and its requirements, so you know what to expect.
What is Biophilic Design?
Biophilia is a term coined by American psychoanalyst Eric Fromm. It describes humanity's innate connection to nature and explains why people across cultures enjoy experiences like walking through a forest, sitting by the ocean, or listening to a crackling fire.
Since Fromm defined the theory in 1964, architects and interior designers have developed strategies for integrating nature into the built environment. Biophilic design has become a cornerstone of many green building rating systems, including the LBC. After all, how can you make a "living" building without taking inspiration from nature?
The LBC's Biophilic Exploration helps architects and their clients brainstorm strategies for integrating biophilic design into a building project. It provides participants with a deeper understanding of their site and community, leading to buildings that are rooted in place.
For example, the Stanley Center's Biophilic Exploration highlighted the importance of a watershed that flowed through the project site in the early days of Muscatine. This discovery led to on-site water features and other homages to Muscatine's history being integrated into the project's design.
How Does the LBC's Biophilic Exploration Work?
The Biophilic Exploration should occur early in the design process. The goal is to challenge conventional approaches and brainstorm ideas. Participants are more likely to think outside the box before starting design work.
The workshop should include your design team and project stakeholders, including occupants who will utilize the completed space. It should also include experts who can help you better understand your building site. The International Living Future Institute (ILFI), the organization that oversees the LBC, recommends experts like:
Naturalists/Ecologists

Geologists

Botanists

Local historians

Anthropologists

Community leaders
You do not have to include everyone on this list, nor are you limited to the ILFI's recommendations. However, you and your design team should work together to bring a diverse set of perspectives to the table.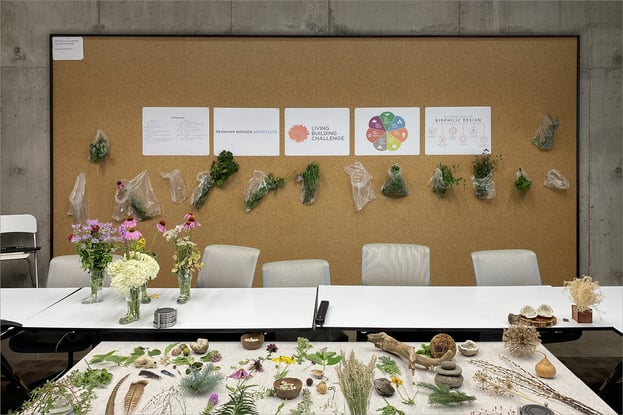 Neumann Monson conference set up a Biophilic Exploration.
What Can You Expect from the Biophilic Exploration?
The Biophilic Exploration is an all-day, eight-hour event. Although it may sound daunting, there is plenty of ground to cover during this time—and coffee and lunch breaks make it manageable. The Exploration will look different on every project, but most workshops include four basic components.
1. Place Context
In this portion of the Exploration, you will learn about your site's ecology, climate, and geology. While you and your design team may do some of this research, outside experts like naturalists, geologists, and botanists can help you dive deeper.
For our Iowa City office Exploration, we consulted a local conservationist who explained Iowa's geological history, climate, flora, and fauna.
The goal is to help you visualize how your project can contribute to the local ecosystem. Research into local materials, climate considerations, and native plantings can help cultivate a sense of place.
2. People and Culture
Along with your area's ecology, you will also learn about its history and culture. For this portion, you may consult local historians, anthropologists, or community leaders.
In our Iowa City Exploration, we worked with the Downtown Association and local development specialists.
These expert insights help you understand the challenges your area faces and the opportunities your project presents. You may brainstorm strategies for fostering community connections or incorporating local art into your project. The result is a project that positively impacts a community and celebrates its cultural strengths.
3. Biophilic Design Principles
Armed with a deeper understanding of your building site and community, you will dive deeper into biophilic design strategies. Specifically, you will learn about Stephen Kellert's six biophilic design principles:
Environmental features

Natural shapes and forms

Natural patterns and processes

Light and space

Place-based relationships

Evolved human-nature relationships
Your design team should explain each of these principles and provide examples of precedent projects. Through an open discussion, you will discover how to apply these principles to your project and adapt them to your regional and cultural context.
4. Develop a Framework
Toward the end of the Biophilic Exploration, you and your design team will develop a list of biophilic design strategies that you plan to implement.
This list will act as a reference document that will evolve throughout the design and construction process. As one of the documentation requirements for the LBC, the ILFI will utilize your Biophilic Framework to assess how well the design accomplished your goals.
The Exploration's open, collaborative structure leads to a clear set of action items that guide future design decisions. This document becomes the scaffolding of the entire LBC process.
Learn More About the Living Building Challenge
The Biophilia Exploration is a foundational component of the Living Building Challenge. Occurring early in the design process, the Exploration helps your team better understand your site, your community, and the opportunities your project presents. By the end, you have a clear framework that helps you connect your project with nature and your community context.
In our experience, the Exploration's impact extends beyond your project. It is a chance to bring together community experts and discuss the challenges in your region. The Exploration breaks down silos between conservationists, community leaders, historians, and designers, catalyzing future collaboration.
This lively workshop is just the beginning of the exciting opportunities an LBC project presents. To learn more about the LBC, read about the Stanley Center for Peace and Security and how the LBC resonates with its values.