Reflections from Greenbuild 2022
Greenbuild is the largest annual event for green building professionals worldwide. It offers the opportunity for designers, building managers, contractors, and community organizers to come together and learn solutions for improving sustainability in the built environment.
This year's conference, hosted in San Francisco, marked Greenbuild's 20th anniversary. Crowds were back a lower turnout in 2021 due to Covid-19. The conference included educational sessions, tours of exemplary projects, a large product expo, and a keynote address from actress and activist Jane Fonda.
The event was an exciting chance to reconnect with green building professionals and learn about the latest advances in sustainable design. This article will discuss some of my biggest takeaways from the event.
Excitement Over New Legislation
Greenbuild 2022 occurred after the passage of two critical pieces of federal legislation: The Infrastructure Investment & Jobs Act and the Inflation Reduction Act (IRA).
Together, these laws represent an unprecedented investment in climate action, especially for green building strategies. After years of staying on the sidelines, the federal government is addressing the climate crisis again.
These pieces of legislation will be key drivers in the industry over the next several years, and the excitement was palpable.
New Product Developments
Greenbuild includes an expo of the latest innovations in green building products, as well as standard products that have been on the market for years. Bio-based materials have been growing in popularity, and this year's expo saw an increase in the use of hemp.
While not yet mainstream, products like hemp structural blocks offer a sustainable alternative to more carbon-intensive materials like concrete. Recently, hemp was made legal as a rotational crop in Iowa, and it will be interesting to see how these developments impact our region.
Along with bio-based products, the expo featured innovations in water conservation. A recirculating shower continuously filters and reuses water that would otherwise go down the drain.
Typically, water conservation solutions are site-based or simply reduce water use. A product that continuously recycles water is an exciting development.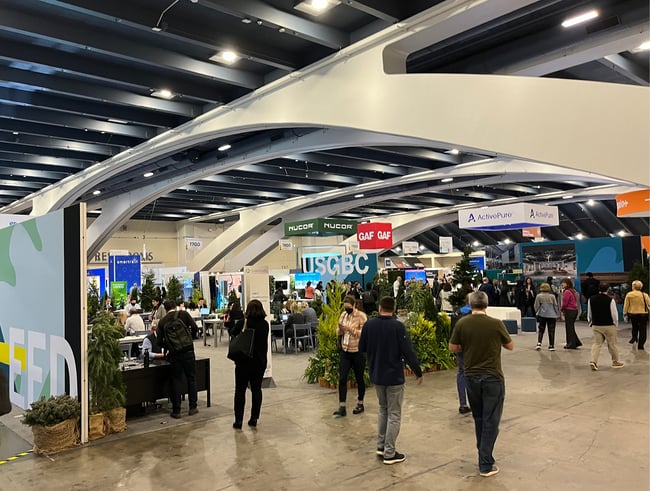 Product expo at Greenbuild 2022.
A Focus on Health and Well-Being
Human health has become a topic of increasing focus in sustainable design. In addition to minimizing carbon emissions, designers are looking to improve occupant well-being. Many Greenbuild sessions and products on the expo floor focused on the health impacts of building materials.
Some designers are expanding this focus to include mental health. There is a growing recognition of neurodiversity—the range of differences in brain function and behavioral traits. One session featured research from HOK on designing for a neurodiverse workforce and accommodating sensitivity issues.
It will be exciting to see how this research will impact the profession in years to come.
Equity and Triple Bottom Line
Equity and affordable housing were big topics this year. Often, these discussions referred to the Triple Bottom Line of building projects. Triple Bottom Lines measures a company or project's social and environmental impact, as well as financial performance.
Architects and developers are starting to use software that measures Triple Bottom Line during the design process. Numerical values can help everyone better understand the wider impact of design and planning decisions.
The Importance of Embodied Carbon
Embodied carbon refers to the greenhouse gas emissions associated with construction and the extraction, manufacture, and transportation of building materials. At Greenbuild 2022, several companies showcased tools that help architects and designers better track and manage embodied carbon levels.
Although the profession has made strides in reducing operational carbon, every building project has a baseline amount of embodied carbon. As such, the AIA is shifting its focus to promote embodied carbon reduction and adaptive reuse more extensively.
Sustainable Design at Neumann Monson
Greenbuild is an opportunity to learn about developments in sustainable design and gauge where the industry is headed. It is also a chance to evaluate our successes and find opportunities for improvement.
Recently, Neumann Monson has strengthened its commitment to sustainability by adopting the AIA's Design and Materials Pledge. The Pledge provides a framework for evaluating products and finishes and encourages an industry-wide shift in how designers specify products. Learn more by reading about our commitment to the Materials Pledge.