Working with an Interior Designer on an Architectural Project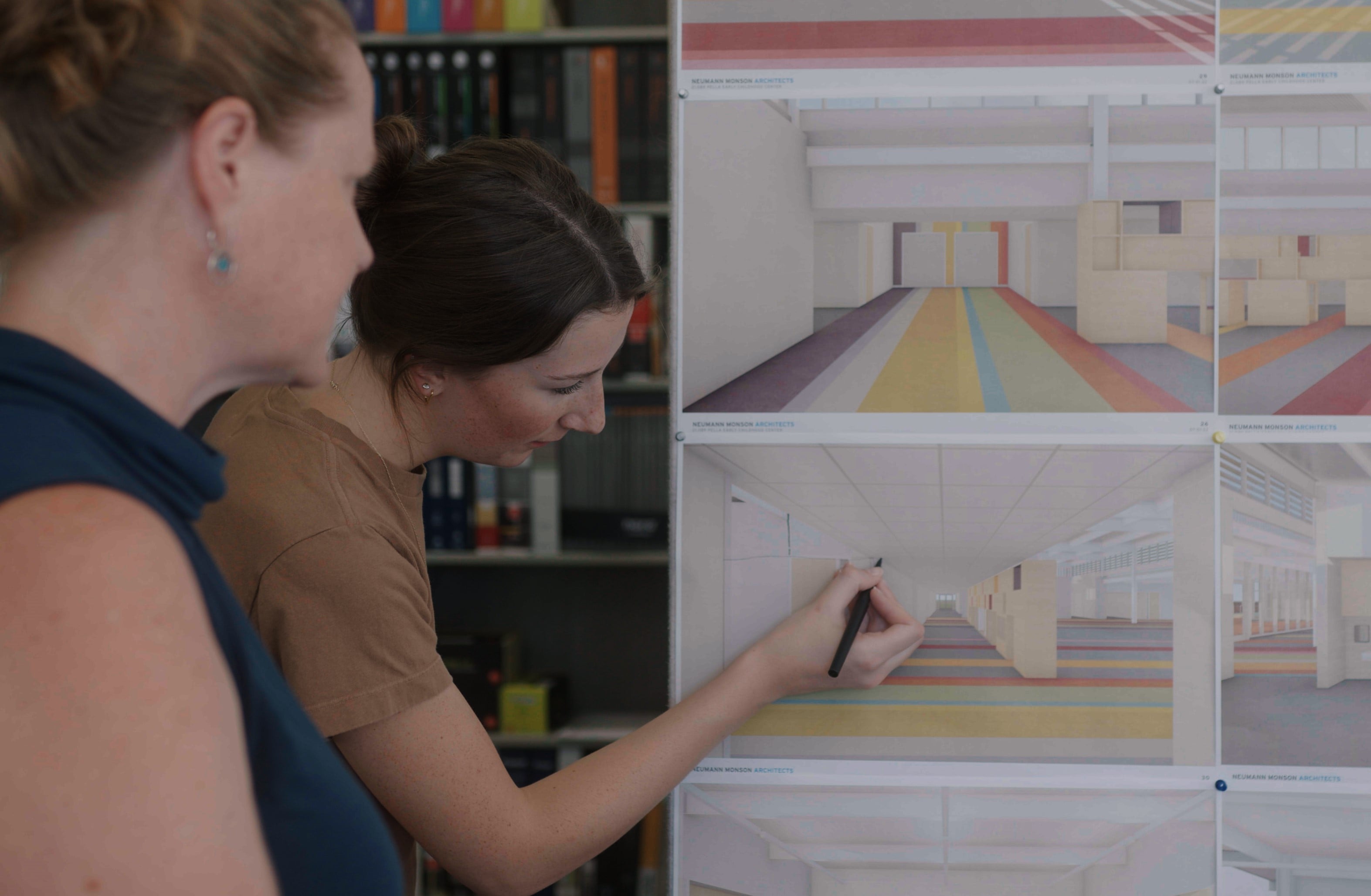 When starting a building project, you may wonder if you will work with an architect, an interior designer, or both. The line between the two professions often blurs, leading to confusion. You may also wonder when you will plan your building's interior and how the process will work.
At Neumann Monson, we have both architects and interior designers on staff. We find a blended approach leads to the best results as both professions offer valuable areas of expertise.
This article will discuss the difference between architects and interior designers and how both contribute to a project. After reading, you will better understand the role of an interior designer and how you will work with one.
What is the Difference Between an Architect and Interior Designer?
The roles of architects and interior designers often overlap. We often think of architects overseeing aspects of a building project like:
Site plans

Exterior materials

Code compliance

Contract administration
Conversely, we think of interior designers planning:
Interior layouts

Materials and finishes
In actuality, the line between these two sets of responsibilities often blurs.
On most projects, architects take part in material and FF&E selection. Likewise, interior designers create floor plans and draft drawings like interior elevations. Both groups coordinate with consultants, review plans for code compliance, and work with contractors during construction.
The difference between architects and interior designers comes down to training and the perspectives they offer. Architects take an airplane view and plan the building's structure, the exterior, and how the building fits into its surroundings. They also consider the building's energy performance and its environmental impact.
Interior designers provide an on-the-ground perspective by thinking about the building from the inside out. They focus on the occupants, consider their day-to-day tasks, and how a layout or material choice will impact their experience.
Of course, architects also consider the occupants, and interior designers also consider sustainability and performance. As mentioned, the line between the two professions can be unclear.
Will You Work with an Architect or an Interior Designer?
Whether you work with an architect or interior designer comes down to your project requirements.
Some projects may only involve an architect. For example, a single architect may design a smaller residential project, planning both the exterior and interior spaces. Similarly, a commercial fit-out may only involve an interior designer.
Most projects involve a blended team. On a large project, a team of architects may work on the building's shell, while a mix of interior designers and architects plan the interior spaces. A project manager will oversee the whole team and coordinate work with consultants and contractors.
When Will You Work with an Interior Designer?
The most successful projects involve a collaborative relationship between architects and interior designers. Ideally, an interior designer should get involved at the project's onset.
Their perspective is vital in pre-design conversations about user needs, navigation, and concept development. An interior designer can also help you set high-level goals related to material performance and cost.
Although you will start planning interior layouts in Schematic Design, you will interact with an interior designer most frequently during Design Development.
At this stage, you will ideally select materials for the building's exterior and interior. Your interior designer will research options and compare costs for flooring, wall and ceiling finishes, furniture selections, and more. They will also help you form a cohesive look and feel for the entire space.
Learn More About Interior Design
The most successful projects equally use an architectural and interior design perspective. Site planning and energy performance are as important as the experience of everyday occupants. Interior designers and architects should collaborate from the start for the best results.
You can expect to work with an interior designer in the early stages of the project when you discuss your needs and goals. As the project progresses, you will meet with your interior designer more often to choose materials.
Now that you better understand the role of an interior designer, learn how they will help you through the material selection process.