Amenity Design in Housing Developments: Reaching Your Target Market

In recent years, housing developers have placed a greater emphasis on amenities, especially in larger markets. Multifamily residential developments are borrowing from the hospitality industry and creating lifestyle-driven communities to stand out from the competition.
Lately, amenity design is becoming more important in smaller markets, like Iowa. The pandemic changed how we live and work, and today's renters and buyers want everything within arm's reach. The home has become an office, gym, and entertainment center.
Over the years, we've worked with many local and multistate developers in a variety of markets. This article will share our insights and discuss the in-unit and shared amenities renters and buyers look for in housing developments.
Some amenities may not apply to every development. Instead, it's important to research the needs of your target market.
In-Unit Amenities
When it comes to amenity design, individual units remain a top priority. Buyers and renters are looking for a home and want everything they need within their private space.
Spatial Flexibility
With many working remotely, tenants are looking for greater flexibility within their space. The market is trending toward more spacious bedrooms to accommodate desks, and living areas are becoming more efficient.
Spatial flexibility is especially important for college students and young professionals. Often, these tenants desire kitchen islands that double as eating areas or work surfaces. This simple feature makes the space more efficient and saves tenants on furniture.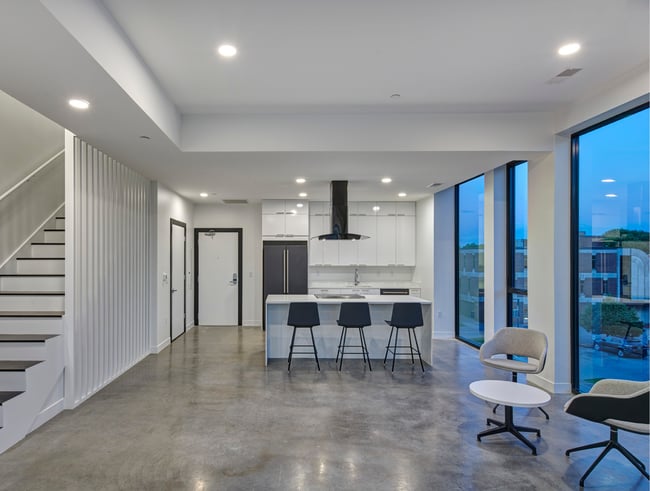 Kitchen islands can double as eating areas or work surfaces.
Smart Technology and Security
In addition to flexibility, younger tenants desire amenities like wireless internet and smart technology. Smart thermostats, lighting controls, keyless entries, and doorbell cameras boost convenience and security.
Security is a top concern for many younger renters living on their own for the first time. Often, security technology can be relatively inexpensive to incorporate.
Convenience and Good Design
Across all demographics, convenient amenities like in-unit laundry units are major selling points. While stacked units work well for college students, older demographics want side-by-side washers and dryers. Other major selling points include fireplaces and private balconies.
In any market, simple, good design is likely to attract tenants. Large, operable windows allow tenants to let in fresh air and light, making the space more attractive and boosting health and well-being.
Vertical floor-to-ceiling windows are the best practice, especially in smaller spaces. These windows emphasize ceiling heights and increase daylighting and views, creating the perception of spaciousness.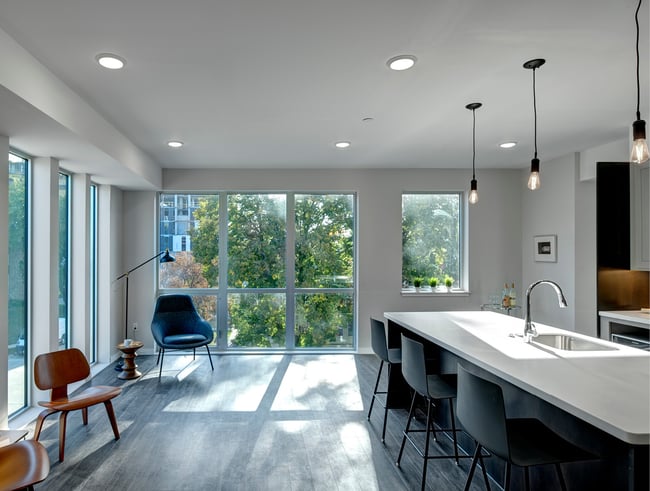 Floor-to-ceiling windows emphasize ceiling heights.
Shared Amenities
In addition to convenience, tenants are looking for a sense of community. Whether college students, young professionals, or retirees, many are willing to pay for shared features that enable an active, social lifestyle.
Gathering and Co-Working Spaces
Outdoor gathering spaces with barbeque grills, firepits, and lounge seating are becoming increasingly popular. Additional amenities like fitness centers, saunas, pools, and dog parks can help new developments stand out.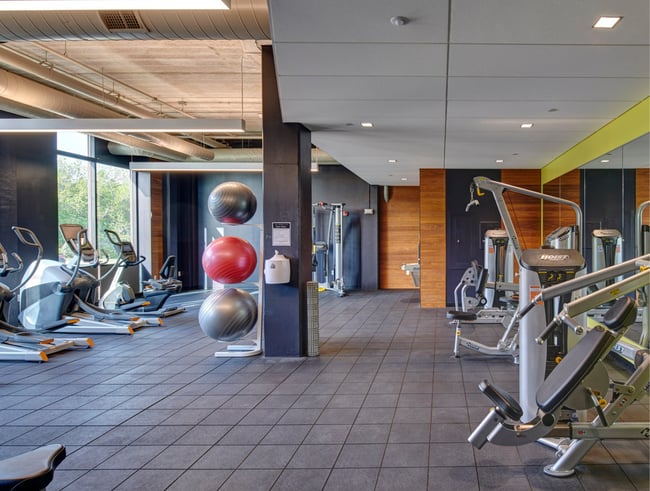 Fitness centers can help developments stand out from the competition.
Remote work has also led to a demand for co-working spaces. Communal spaces with work surfaces, printers, and other essentials can help attract young professionals.
College students, too, desire spaces that facilitate group work and studying. Students want the ability to escape roommates and focus. Borrowing from the hospitality industry, some developers offer free coffee in these shared spaces.
Parking and Package Storage
Across all demographics, buyers and renters desire assigned, weather-protected parking. Guest parking and weather-protected bike storage are additional perks.
Many developers are extending parking stalls and adding storage lockers. These lockers can also create an additional stream of revenue when inserted into hard-to-program spaces.
In addition to personal storage lockers, newer housing developments feature larger package storage areas. Online shopping and food delivery are here to stay, and developers should plan to allocate more space for drop-offs and storage. Ideally, package rooms should be monitored and secure to give tenants peace of mind.
Flexible Communal Spaces
Above all, it's important to allocate flexible space for communal activities. The pandemic emphasized the importance of social connection, and tenants desire a community.
Shared spaces with hospitality-like amenities, such as free coffee or planned social events, encourage tenants to meet their neighbors. Generally, we recommend 10-20 square feet of communal space for every bedroom. These spaces should fit a variety of uses to anticipate changing needs.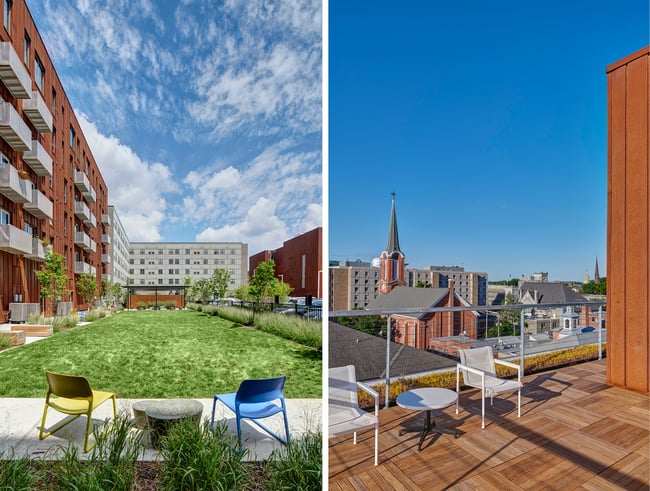 Rooftop gathering and shared green spaces cultivate community.
Understanding Your Target Market
As mentioned, not every amenity will work for every development. Retirees have different needs than college students, so it's important to consider your target market.
On any building project, early research into users creates a stronger outcome. We recommend engaging your target renter or buyer through surveys and interviews. Research can go a long way, especially in highly competitive housing markets.
At the same time, remember buildings take years to complete. New amenities may come along, and tenants' needs may change during the design and construction process. Planning a degree of flexibility is the best way to ensure long-term value.
Learn More About Housing Developments
Since the pandemic, buyers and renters desire more from their living spaces. Emphasizing amenities can help you stand out from the competition, attract tenants, and make your development more profitable.
The amenities discussed here are market trends we have noticed in recent years. Every development is different, and tenants' needs are ever-evolving. Engaging your target market and working closely with your architect is the best way to ensure you hit the mark.
As the market continues to evolve, residential developers are experimenting with new construction techniques. Recently, we have partnered with Better Together 2030 to bring 3D-printed housing to Iowa City. Learn more about the benefits of this construction technique.