3 Times to Include Your Facilities Staff in the Design Process

Successful building projects involve input from a variety of stakeholders. Throughout the design process, your architect should engage different user groups and learn about their needs.
One of the most important user groups to engage is the facilities staff—those who operate and maintain the building. They are a vital voice in design discussions, especially when it comes to functionality and usability. We value their input and find their perspective helps us align design decisions with practical building operations.
In this article, we'll discuss three times to include your facilities staff in the design process:
Early discussions about functionality

Technology and material selection

Transitioning from construction to occupancy
After reading, you will better understand how to bring your facilities staff into the conversation and the value of their perspective.
Times to Include Facilities Staff in the Design Process
1. Early Discussions About Functionality
Facilities staff can help with discussions about usability and building operations. When discussing functionality, it's easy to think about occupants like employees and students while forgetting about maintenance.
A beautifully designed building falls short of its potential if it's difficult to maintain. Timely input from the facilities staff can help your design team create a logical and accessible plan for pathways, piping, ductwork, and valves while making sure the equipment layout provides sufficient clearance space to service it.
Like other user groups, input from the facilities staff is most impactful at the beginning of the process. In Pre-Design and Schematic Design, plans are malleable, and change is easy. As you progress through the architectural process, design plans become more concrete, and it is more difficult and expensive to make changes.
The worst-case scenario is discovering a necessary change during construction. Early discussions with the facilities staff help your design team plan maintenance and operations from the beginning, preventing later changes.
Learn more by reading about when to make changes to a design.
2. Technology and Material Selection
Facilities staff have experience with building systems, equipment, technology, and finishes. They operate and maintain electrical, HVAC, and lighting systems daily, providing an on-the-ground perspective.
When choosing systems and technology, their voice is vital. After all, they will interact with these systems more often than other user groups.
Their perspective is especially important in sustainability discussions. Sustainable design can fall short if the building is not operated and maintained as intended. Facilities staff should understand the sustainability goals and know how to operate any systems that impact performance.
Along with systems and technology, they should also join material selection discussions. They will clean and replace materials like flooring and finishes, so consider how your selections will impact their job. A limited palette of durable materials usually makes cleaning and maintenance more straightforward.
3. Transitioning from Construction to Occupy
Facilities staff are an active part of the transition from construction to occupying the completed space. As construction ends, they should work with the contractor and architect to get the information and training they need to operate the building.
The contractor should supply facilities staff with operations manuals and product warranties. They should also teach them how to operate equipment like mechanical and electrical systems. We recommend filming these training sessions for future hires.
During this transitional period, the facilities staff can help your architect notice unique operating conditions that may need extra explanation. For example, one of our previous projects contained a wood flooring system with specific weight limits. After receiving questions about the system from the facilities staff, we created diagrams and instructions for moving heavy items across the floor.
Regular communication with your architect can help your facilities staff understand the building before move-in day, creating a smoother transition for you and your team.
Your architect can even provide the facilities staff with detailed building models. Depending on your needs, these models can include warranty information and outline connections between different building components, providing all necessary information in one convenient location.
Modeling is often a supplemental service but can be a wise investment for complex projects.
After construction, your facilities staff should feel comfortable contacting your architect and asking questions. We are their long-term resource and are there to help them do their job more effectively.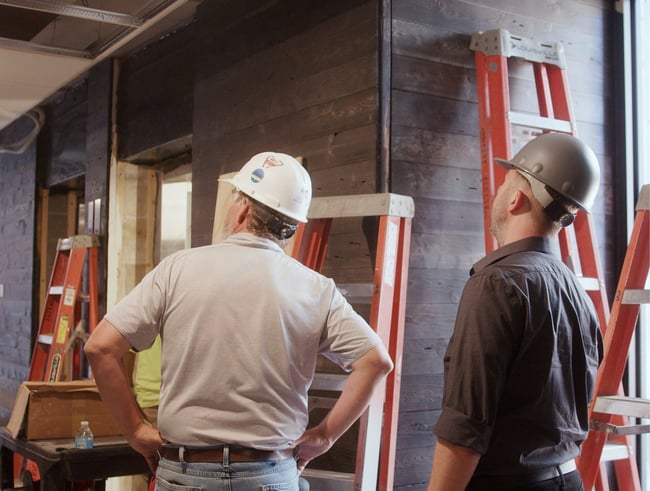 Facilities staff will work with the architect and contractor to learn about operations.
What Happens Next?
Facilities staff are one of the most important user groups to include in the design process. They operate and maintain the building, and should have a voice in conversations about functionality, technology, and materials. As construction ends, they will work closely with your contractor and architect to ensure a smooth transition into occupancy.
Of course, the architect-client relationship is not over after you move into the building. Your architect is available to answer questions and address problems as you settle into your new space.
On many projects, they will check in with a post-occupancy evaluation. Learn more by reading about post-occupancy evaluations and how they benefit your team.