What is Schematic Design, and What Can You Expect?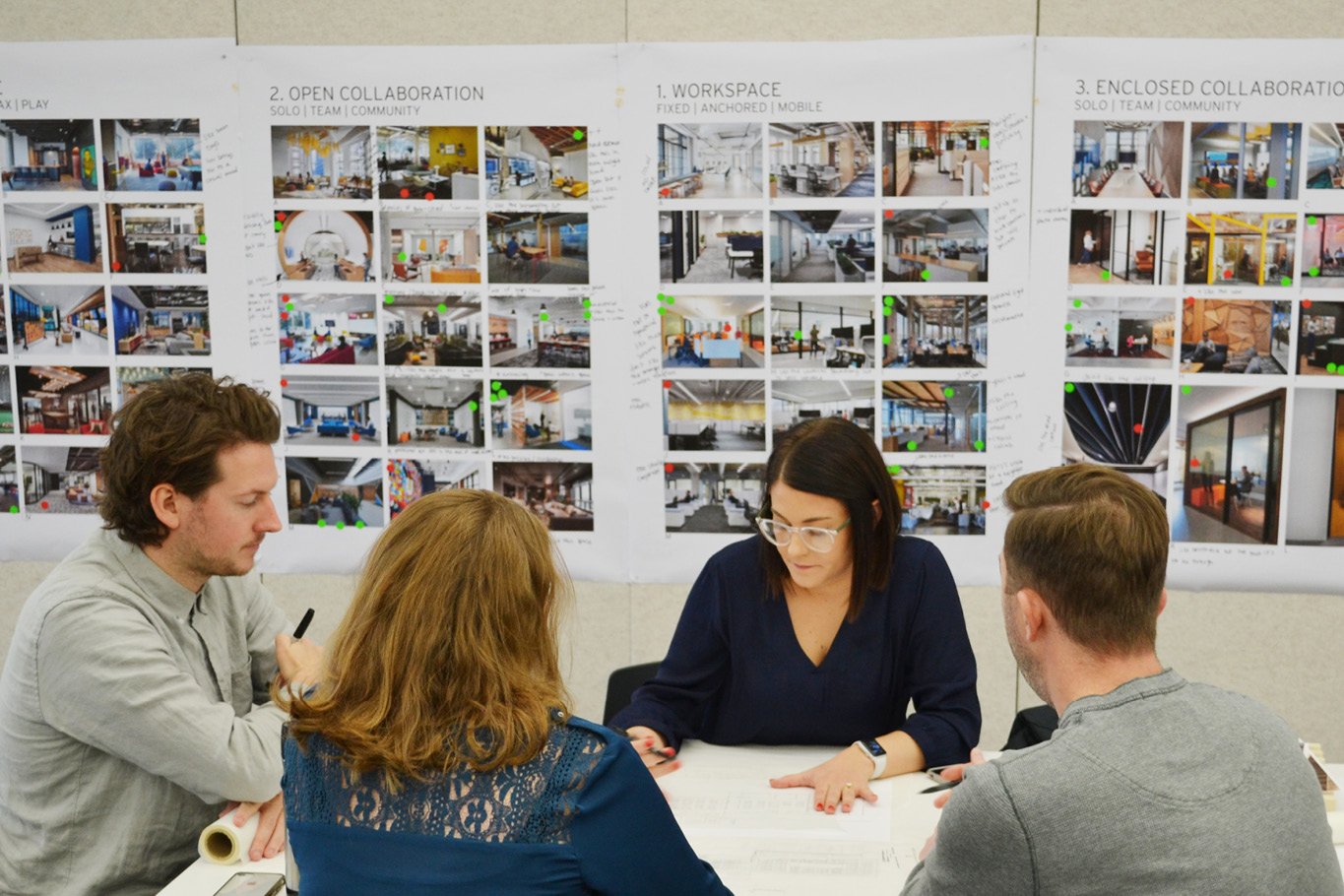 The architectural process can be long and complex, so it helps to break it into manageable phases. Schematic design is the first step in taking a concept and turning it into a design. In this phase, your ideas start to become tangible.
We believe the best projects occur when everyone involved knows what to expect in terms of deliverables and time commitments. This article will break down the schematic design process by explaining:
The relationship between schematic design and pre-design
The steps of the schematic design process
Expectations in terms of meeting and time commitments
Neumann Monson's approach to schematic design
After reading, you will know what to expect, how to engage with your architect, and who to include in schematic design meetings.
Pre-Design vs. Schematic Design
Before diving into the schematic design process, let's discuss pre-design and its role in crafting a vision for your project. In pre-design, your architect will engage your project's stakeholders and collect information that will form the foundation of concepts developed in the design process.
Some information will relate to your project goals. In visioning workshops and benchmarking tours, your architect will learn about your organization and the needs of the building's occupants. If you need to develop a program, your architect will help you determine your needs and quantify them into spaces.
At the same time, your architect may bring together a team of consultants to identify potential project constraints. For example, if you are undertaking a renovation, your architect may consult structural and mechanical engineers to learn about the building's existing conditions.
With a firm understanding of your needs, wants, and the project's constraints, you are ready to head into schematic design.
The Schematic Design Process
In schematic design, your architect takes the raw data collected in pre-design and uses it to form a design. A standard American Institute of Architects (AIA) contract specifies an architect should develop three concepts, but the number you explore depends on your goals and the agreement you form with your architect.
Develop Rough Concepts
Your architect will begin with rough sketches of floor plans and the building's exterior. Through collaborative exploration, these rough sketches will gradually become more detailed and include elevations and material choices.
At this stage, material choices will be general. Your architect may specify metal cladding or gypsum walls but not specify the exact product. If you use a design-build or design-negotiate-build project delivery method, your architect may collaborate with your contractor to better understand potential material costs.
Visualization Tools
Throughout the process, your architect will use a variety of visualization tools to help you understand the design and its intent. These tools may include:
Sketches of the building's exterior
Floor plans
Physical models
3-D models and renderings
Keep in mind: renderings may be a supplemental service. Most architects will create a 3-D model to help you understand the design, but additional renderings may be outside the scope of basic services. Renderings or videos for marketing or fundraising purposes may be an additional expense.
Bringing on Consultants
Consultants are also involved in the schematic design process. Structural engineers will join the process to create basic structural drawings, and mechanical engineers will begin crafting a "narrative" of the building's systems. Civil engineers will start mapping out site plans based on the site survey.
The input from these consultants will create a more thorough understanding of the project's scope. Their plans will factor into the estimation of cost, helping you understand if your goals are within your budget.
Choosing a Concept
As you continue through schematic design, your architect develops concepts into designs with your input and feedback. Around the mid-point of schematic design, you will choose one option that will eventually develop into the final building.
Once you've chosen a design, your architect will develop it further and provide a probable opinion of cost and a rough timeline for the design and construction process.
If the opinion of cost is too high, your architect will continue designing and find ways to get the project within budget—either by removing programming elements or decreasing their size.
Time Commitments and Meetings
The schematic design process doesn't occur in a vacuum. Each concept develops through communication, collaboration, and feedback. As such, you should expect to meet with your architect regularly to discuss the design and its development.
Meetings with Core Decision-Makers
Usually, you will have weekly or biweekly meetings with your architect. Most meetings will include your core team of decision-makers. For some organizations, the core team may be a Board of Directors or facilities team. Other organizations may have a more informal process.
In meetings, it's important to be communicative and voice your opinions. Schematic design is the best time to make changes. In this phase, the design is malleable, and we haven't determined any specifications. As the process progresses, it's more difficult (and more expensive) to change the design.
Meetings with Stakeholders
Along with your core team, your architect will meet with your project's stakeholders, solicit their feedback, and ask them questions related to their needs and interests. For example, school projects include meetings with teachers, administrators, and facilities staff. Typically, stakeholder meetings occur after the core decision-making group chooses a design.
Neumann Monson's Schematic Design Process
At Neumann Monson, we emphasize a collaborative schematic design process. After pre-design, we usually host an ideation session where we solicit thoughts and ideas from anyone in our studio (including the non-designers!).
In the early stages of the process, our internal knowledge groups begin collaborating with the project team. Our Design Quality team joins the process to review plans and see that the design aligns with AIA's Framework for Design Excellence. At the same time, our Sustainability Team works to align the project with the latest green building practices, specifically the AIA's COTE Top 10 guidelines.
These knowledge groups are fully ingrained into the schematic design process—maximizing your project's potential from the onset.
Ready to Learn More?
For architects and clients alike, schematic design is one of the most exciting parts of the architectural process. Your building project develops from a vague idea into something visual and tangible, and you can begin imagining living and working in your new space.
As your architect and their consultants begin testing the design against all constraints, you will get a better understanding of your project's timeline and cost—helping you prepare for the process ahead.
Remember: throughout the design process, communication is key. Schematic design is the best time to make changes, so prepare to enthusiastically voice your thoughts and opinions. Don't worry—you won't hurt our feelings.
Learn what happens next by reading our guide to Design Development.