Housing First: Considerations for Low-Barrier Housing

Housing First is a nationally recognized homeless assistance model that provides permanent, low-barrier housing. It is based on the idea that people need a place to live before they can address the underlying issues that contribute to chronic homelessness.
We have partnered with Shelter House in Iowa City to complete two Housing First projects—Cross Park Place and 501. Combined, these two developments provide 60 housing units.
Housing First projects need to function as residential developments as well as medical and social service centers—creating unique design challenges. If you are considering this approach, carefully consider the population and their needs.
This article will build on the lessons we've learned and discuss the factors to consider when planning these projects.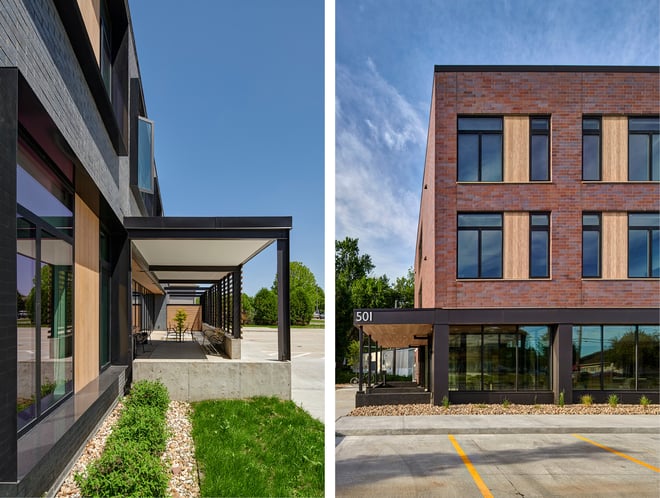 Cross Park Place and Project 501 in Iowa City.
What Makes the Housing First Approach Unique?
Traditional homeless assistance uses a "housing ready" model where individuals must meet specific requirements or graduate through a series of services to qualify for housing. The Housing First approach does not set requirements or mandate participation in services. It reduces barriers and offers unconditional access to housing.
Often, Housing First projects offer social and medical services, though participation is not required. However, by reducing barriers, the Housing First model provides a vulnerable population with dignity and autonomy, better positioning them to use these services.
The model is particularly effective at combating chronic homelessness. Of the total homeless population, 5% are considered "chronically homeless." These individuals can be stuck in a financially intensive cycle of emergency room visits, jail time, and temporary shelters.
An Iowa City study tracked four individuals over five years and revealed the total cost of services to equal nearly $3 million. An upfront investment in permanent housing can reduce these long-term costs and better position a community to end homelessness.
4 Considerations for Housing First Projects
1. Durability and Care
Durability is an important consideration when designing a Housing First project. These building types tend to experience wear and tear and are often funded by non-profits or municipalities. An upfront investment in durable materials can reduce maintenance and life cycle costs.
Despite the importance of durability, the building shouldn't feel institutional. If the space feels too institutional, it can be counterintuitive to the goals of the Housing First approach. Cross Park Place and 501 used trauma-informed design principles to provide security, comfort, and autonomy.
Above all, Housing First projects are homes, and they should feel safe and welcoming to occupants.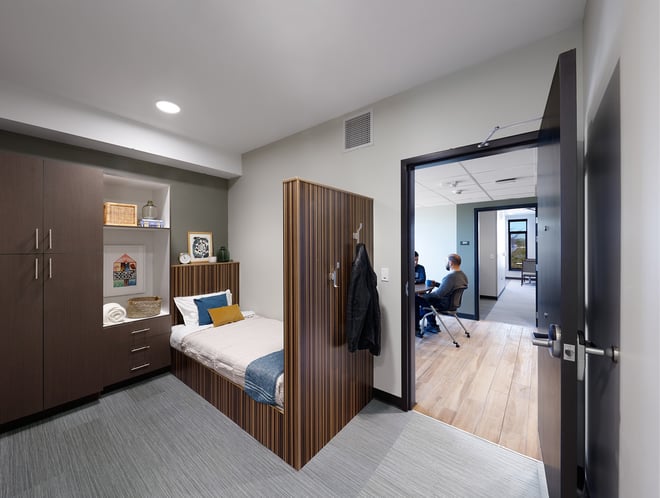 Housing First projects should feel residential.
2. Social Gathering Space
Social spaces are more important to Housing First projects than other residential developments. Often, individuals who have experienced chronic homelessness are more used to living in groups.
The building should provide a space for people to interact. Outdoor courtyards and interior communal areas can provide spaces for people to socialize outside their units.
Cross Park Place provides a screened outdoor space for people to sit, smoke, and socialize without being on display. Attempting to change occupants' habits can make these projects less effective. It is better to provide spaces where they feel comfortable.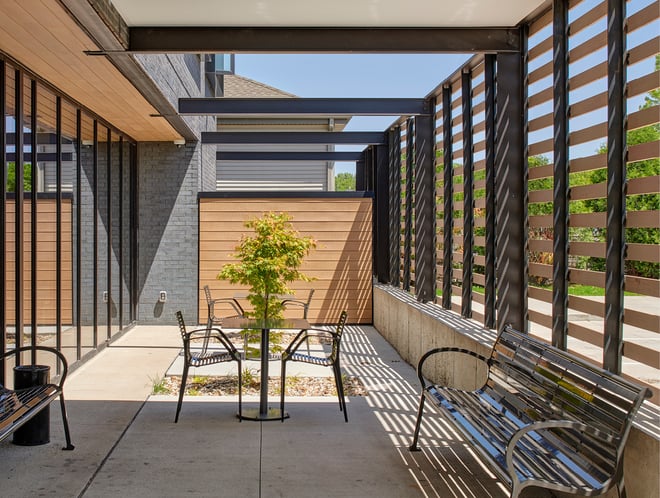 Screened outdoor space at Cross Park Place.
3. Space for Social Services
One of the goals of the Housing First approach is to make it easier for individuals to access care. In a stable environment, people are better positioned to address the factors that contribute to chronic homelessness, like substance abuse or mental health issues.
Devoting space to these services within the building can make it easier for occupants to access care. Cross Park Place and 501 include medical exam rooms and offices for social workers. On-site access removes barriers and can reintroduce people to these services and programs, making them more effective.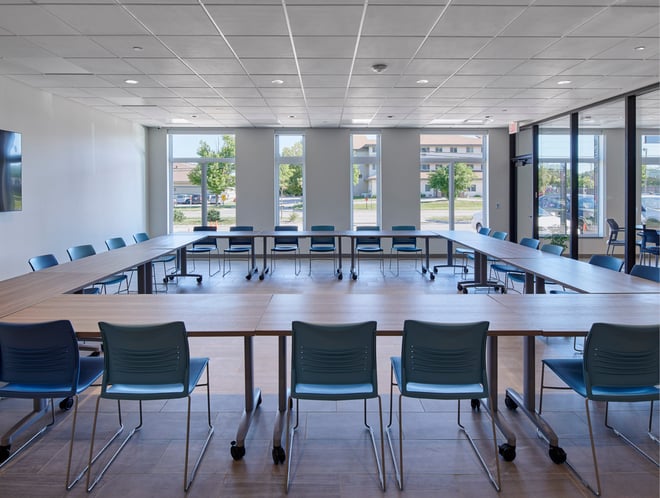 Meeting spaces at Project 501.
4. Community Input
While community input is vital to any building project, Housing First projects require a wider range of stakeholders.
We recommend consulting experts who have worked with the local homeless population. Those who have relationships with the individuals and understand their needs should have a voice in design discussions.
Cross Park Place grew out of a collaboration between various government agencies and nonprofits across Johnson County. Local hospitals later joined design discussions to determine the best approach for delivering healthcare services. Jail alternative groups also joined to discuss trauma-informed design principles.
In short, a Housing First project requires a wide range of stakeholders. Ending homelessness is a coordinated effort, and the design discussions should accurately represent your community.
Learn About the Architectural Process
Housing First has proved to be an effective model for combatting homelessness. Low-barrier access to housing acts as a platform for individuals to seek care and improve the quality of their lives.
Successful Housing First projects meet the unique occupants' unique needs. Bringing community members into the design process and including services within the building creates a more welcoming and effective environment.
An architect can lead the design process and help you discover solutions that fit your community and budget. If you have never worked with an architect, learn more by reading about the architectural process.