Material selection is one of the most important aspects of a building project. Beyond aesthetics, many factors go into the final decision, including code compliance, performance, and environmental and health impacts.
For many building owners, the cost of materials is the driving factor behind the selection process. If you are operating on a tight budget, you may consider reducing your construction costs by using inexpensive materials. Unfortunately, this decision might have long-term repercussions. Choosing an inexpensive material with a short life cycle will likely cost you more in the long run.
At Neumann Monson, life cycle cost analysis is an important part of our process. We often tell our clients that initial costs are only the tip of the iceberg. The true cost of building ownership occurs over a building's lifetime. Our goal is to help all building owners get the best value and save on long-term maintenance and utility costs.
In this article, you'll learn about life cycle costs and the importance of selecting high-quality building materials. By the end, you will understand how spending a little more upfront can save you in the long run.
What are Life Cycle Costs?
On building projects, a life cycle cost is the total cost of a material or system over its lifetime. This includes the cost of maintaining or replacing materials.
Like an iceberg, a material's initial cost is most obvious—but hidden maintenance and replacement costs lurk below the surface. Inexpensive materials with a short life cycle will cost you more than durable materials with a higher initial price tag. For example, many types of cladding require protective stains, an annual maintenance cost. A cladding with a higher initial cost like natural-weathering red cedar can significantly reduce maintenance costs, a technique used for the Unitarian Universalist Society.
Lifecycle costs apply to almost every material and system that goes into a building, especially those that face wear and tear from weather or occupant use. When you are consulting your architect, ask about the life cycle costs of the following types of materials:
Flooring

Cladding

HVAC Systems

Window glazing

Roofing systems
A Case Study: VCT vs. Polished Concrete
When thinking about lifecycle costs, invest in areas that will have the greatest impact. This will look different for every project type. For commercial building owners, flooring is a crucial investment.
Let's look at an example:
Recently, a commercial client needed a new prototype store to implement across their portfolio of properties. When they approached us, they had over 60 stores across four states. Historically, they had chosen Vinyl Composite Tile (VCT), a flooring material with a low initial cost common in retail settings.
Although VCT has a low initial cost, it requires constant maintenance, including frequent waxing and stripping. At the same time, it has a short lifecycle and needs to be replaced once every ten years, depending on foot traffic. These expenses greatly increased the client's building operations budget.
To address these problems, the new prototype store used polished concrete flooring.
Unlike VCT, polished concrete is low maintenance, making it ideal for a commercial environment with regular foot traffic. Rather than waxing and stripping, it only needs to be cleaned with a mop. It can also last over 40 years, giving it a much longer life cycle than VCT.
But polished concrete has a higher initial price than VCT. While this higher initial price gave the client pause, investing in polished concrete was a wise choice. Historic data on the performance of VCT flooring demonstrated the long-term value of spending a little more upfront.
By thinking about the longevity of flooring materials, the building owner saved on the operational costs of building ownership.
Life Cycle Costs of Flooring Materials
In public or commercial settings, foot traffic can damage floors over time, increasing maintenance and replacement costs. The following graphic breaks down the life cycle costs of various flooring materials: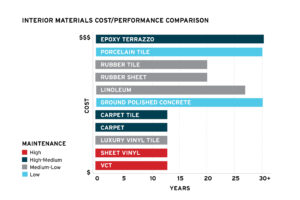 As you can see, the materials with the highest initial cost tend to last the longest and need the least amount of maintenance. Porcelain tile may be one of the most expensive materials, but it is low-maintenance and can last over 40 years.
Meanwhile, the materials with the lowest initial cost require the most maintenance and need to be replaced often. High maintenance materials like Vinyl Sheet and Vinyl Composite Tile (VCT) need to be replaced at least once in a 20-year cycle. Materials like carpet or carpet tile need slightly less maintenance, but they will still need to be replaced just as often.
Choosing the Right Materials
The cost of a building project extends well beyond construction. The true cost occurs over decades as you invest in maintaining the building. Therefore, it's important to analyze the lifecycle costs of the materials that will face the most wear and tear.
Additionally, consider what materials or systems will have the greatest impact on your operations. For example, many industrial building owners cannot afford to shut down operations for roof maintenance or replacement, so it's wise to invest in a high-quality system at the onset. The cost of shutting down operations outweighs the cost of this initial investment.
When you start the architectural process, keep your long-term goals in mind. Even with a limited budget, invest in the materials and systems that have the greatest operational impact. As architects, our goal is to leave you with a durable building that will save you money in the long run.
Life cycle costs are only one component of long-term building operations. Now that you understand life cycle costs, learn how you can reduce utility expenses through sustainable interior design.