How to Plan a Flexible Interior Space

Whether a school or workplace, a flexible interior offers many benefits. Flexibility can help you maintain your building's usefulness even as your needs change. It can also help you reduce the likelihood of extensive renovations, saving you time and money while minimizing your carbon footprint.
Planning flexibility is easier said than done. To ensure the space adapts to changing needs, your design team needs a thorough understanding of your operations and growth plans. Careful consideration should be given to layouts, materials, furniture, and other building systems.
No one solution fits every organization, but by working with your design team, you can find a thoughtful approach that benefits as many people as possible. This article will help you plan a flexible interior space by discussing four general rules of thumb:
Consider future additions

Prioritize openness and daylight

Invest in flexible systems
By the end of the article, you will better understand the information you should give your design team and the investments you should consider.
3 Rules for Planning a Flexible Space
1. Consider Future Additions
Flexible interiors start with long-term planning. To help you find the right solution, your design team needs to understand your organization's operations and its growth potential.
Master planning services can help you identify future changes and create a long-term strategy for your facility or site's development.
The master planning process looks different on every project, but generally, it starts with determining your priorities. In a visioning workshop, you will list goals, discuss growth projections, and identify the types of spaces you need to support your operations. This process applies similarly to both new construction and renovations.
With this information, your design team can help you identify the most important spaces and determine how much space each occupant needs.
This upfront research and planning can help you prepare for future expansions. Design solutions like anchoring floor plans with communal spaces can make expansions more straightforward and less-expensive.
You can also plan a building's exterior for flexibility. For example, extending and capping utilities at future build-out spots can help accommodate future expansions, and often, it is less expensive than running new lines in the future.
2. Prioritize Openness and Daylight
Once you start planning the interior spaces, prioritize openness. Open spaces with wider column spans and higher floor to floor heights are always the most flexible option.
An open workplace, for example, is much easier to reconfigure than a space with private offices. If your needs change, you won't need to remove walls to rearrange or renovate, saving you time and money.
Using supporting columns and beams instead of load-bearing internal walls also allows you to remove interior walls without major structural impacts. Longer spans and fewer columns give layouts greater flexibility. Your architect can evaluate your program and recommend areas where it might be appropriate to employ this strategy.
Daylighting also adds more flexibility. Proper solar orientation and strategic window placement can help you achieve a space where all occupants can access natural light. When reconfiguring the space in the future, good daylighting strategies will allow reconfigurations that still provide occupants with access and promote their health.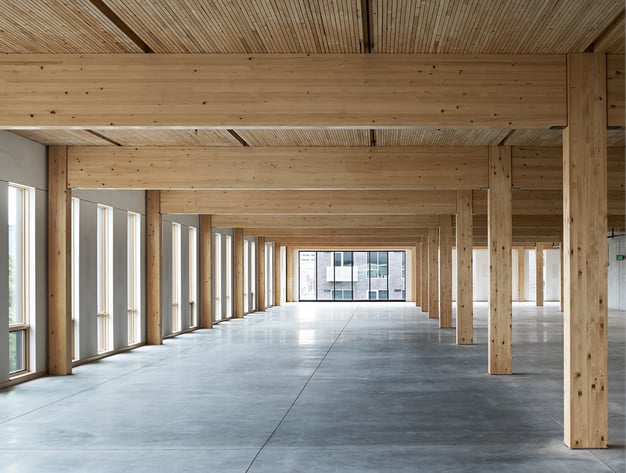 Open spaces with supporting columns create more flexibility.
3. Invest in Flexible Systems
If you want to a flexible interior space, you may need to invest in flexible systems. One such system is furniture. Unlike built-in workstation casework, furniture is moveable, allowing you to easily rearrange the space and add more occupants.
Generally, it has a higher initial cost than casework which is fixed and relatively permanent. However, its inherent flexibility reduces the likelihood of extensive renovations, saving you money in the long run.
Private organizations can also depreciate the cost of furniture. The current tax code specifies that businesses can depreciate furniture over seven years, allowing you to recoup your investment.
Learn more by reading about the differences between furniture and casework.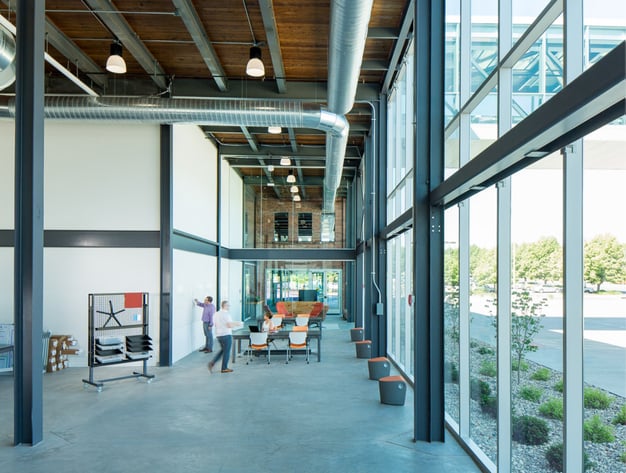 Furniture tends to provide more flexibility than casework.
To maximize flexibility, consider demountable walls or raised floor systems. Often, demountable walls are included in a furniture budget and depreciate at the same rate. Raised floors make it easier to rearrange electrical conduits or data connections and reconfigure under floor air delivery grilles if your spatial layout or technology changes.
Although these systems typically have a higher upfront cost, they are a wise investment for growing organizations.
Commercial organizations may also want to invest in fire sprinklers. Sprinklers provide flexibility by allowing you to have multiple occupancy types and larger floor plates. This makes expansions more straightforward and reduce the cost of improving existing firewalls or adding new ones into the design.
What Are Your Next Steps?
Flexibility is a top priority for many building owners. No matter the organization, needs will likely change over time. Interior spaces should evolve alongside your organization, accommodate and promote adaptability, and provide long-term value.
When starting your project, talk to your design team about potential operational changes and growth projections. Master planning can give you and your architect a better understanding of your needs and help you prepare for future expansions.
When designing interior spaces, focus on openness. Open layouts with access to daylight are much easier to reconfigure than closed-off floorplans. You should also consider investing in fire sprinklers, furniture, and systems like demountable walls and raised flooring.
Although these items may increase your initial budget, they will reduce the time and cost of future renovations, saving you money in the long run.
Flexibility is only one factor you should consider when taking on a building project. Learn how work styles and your organizational culture can influence design by reading about the five factors to consider when renovating your workspace.