Opportunities and Challenges of Adaptive Reuse

From warehouses to shopping malls, the US has plenty of building stock sitting vacant. Rather than build new, many building owners are breathing life into these forgotten structures by exploring adaptive reuse strategies.
Adaptive reuse refers to repurposing existing buildings for different uses. These projects offer the opportunity to reduce carbon emissions, revitalize communities, and in some cases, earn tax benefits. Despite the opportunities, adapting an existing building presents challenges that can impact project budgets and construction timelines.
In the last decade, we have taken on several adaptive reuse projects, including Market One, the Wilkins Building, and the Stanley Center for Peace and Security. While we would never deter someone from saving an existing building, we want to be transparent about the setbacks you may encounter.
This article will discuss some of the opportunities and challenges of adaptive reuse, helping you determine if this approach fits your goals and values.
Adaptive Reuse Opportunities
1. Sustainability
Carl Elefante, former President of the American Institute of Architects (AIA), once said, "the greenest building is one that already exists." When faced with the decision to construct a new building or reuse an existing structure, the latter is the most sustainable option.
We often think about a building's energy use in terms of heating and cooling, but a large portion comes from construction and materials. When you factor demolition into the equation, carbon emissions further increase. According to the Environmental Protection Agency (EPA), it takes 65 years for an energy-efficient building to save the amount of energy lost in demolishing an existing one.
Adaptive reuse is an opportunity to reduce demolition waste and the embodied carbon associated with new construction. It is also a chance to make an existing building more energy-efficient and reduce emissions in the long run.
2. Community Character
Existing buildings contribute to a community's history and help cultivate a sense of cultural identity. Adaptive reuse is a way to restore significant structures that would otherwise sit vacant and risk demolition. The approach often gains community support and can increase interest in a project.
At the same time, older buildings often have charm and character that can be hard to come by in new construction. Market One, for example, was constructed from load-bearing masonry, a technique that is usually too expensive to do on a large scale today. If an existing building has "good bones," you might as well use them to your advantage.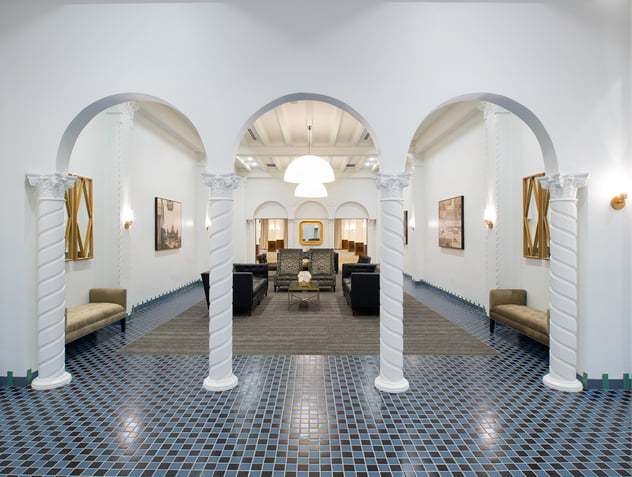 Adaptive reuse allows you to preserve an older building's character.
3. Location
Often, existing buildings are in more populated areas near amenities. Depending on your organization, you may want to be in a visible location that is accessible to the public. An existing building can provide the real estate you need to achieve those goals.
Locating your building in a more populated area also helps fight urban sprawl. Often, new construction occurs in urban outskirts, leading to increased traffic, social isolation, and higher infrastructure costs. Adaptive reuse offers an alternative to sprawling development and an opportunity to connect your organization to the community.
4. Tax Incentives
Adaptive reuse can also provide access to tax incentives. Depending on the age or significance of the building, you may be eligible for federal historic tax credits, which can cover up to 20% of your construction expenses.
Under the Inflation Reduction Act, you can also receive a 17D tax deduction for lowering an existing building's Energy Use Intensity. Retrofitted buildings can receive a tax deduction of $2.50 per square foot for a 25% EUI improvement, capping out at $5.00 for a 50% improvement.
Be sure to talk to your architect about the incentives available for your project type.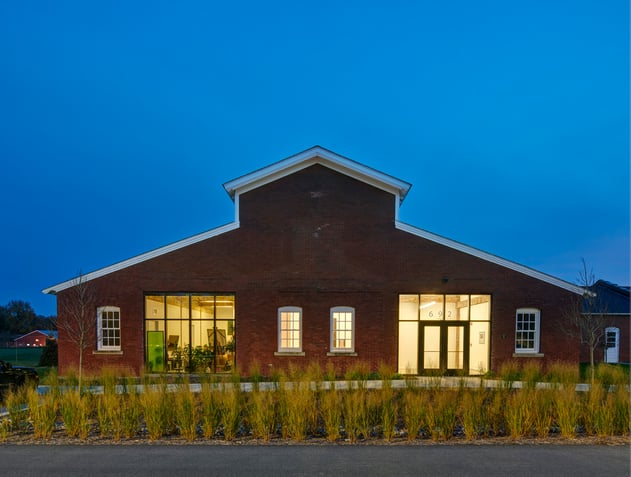 Fort Des Moines, an adaptive reuse project to utilize historic tax credits.
Adaptive Reuse Challenges
1. Potential Code Problems
Although adaptive reuse presents many opportunities, you may face some challenges in the design and construction process. One of the most common problems is getting the building up to code.
Depending on its age, the building may not meet current energy and accessibility requirements. You may need to invest more upfront to bring the building up to modern standards.
Code requirements can be complicated by incentives like federal historic tax credits. Often, historic tax credits require you to maintain features that may not align with modern code requirements, like original windows. Your design team will need to find creative solutions to balance these priorities.
2. Potentially Hazardous Materials
Some older buildings contain hazardous materials, like asbestos and lead paint. Before starting any construction work, you will need to make sure these materials are safely removed.
A third party can assess the situation and provide abatement services. While this is usually a smooth process, it can impact your construction timeline. Abatement services are also an extra cost outside a construction budget. Be sure to keep the time and cost in mind in early discussions about budgets and timelines.
3. Less Flexibility
An existing building may be less flexible than new construction. An architect can design a new building to fit your exact programmatic needs, but with an existing building, they will need to adapt to its conditions. Due to these constraints, you may lose some efficiency in your layout.
These difficulties are only a general rule, however. Every project is unique, and your architect can help you find solutions to adapt a building to your needs. Transparent conversations about budgets and timelines will help you determine the feasibility of your plans.
Learn More About Adaptive Reuse
No matter your building type, adaptive reuse is a viable option. The approach reduces carbon emissions associated with demolition and helps preserve a sense of community identity. Aging building stock should be viewed as an opportunity, not a hurdle.
Before starting an adaptive reuse project, consider the challenges you may face. Often, older buildings need extra work to bring them up to accessibility, energy, and safety codes. Although these challenges can impact your budget and timeline, financial incentives like tax credits and deductions can make the project more feasible.
Talking to an architect can help you determine the feasibility of your goals. Architects love a challenge—and your design team can help you find creative ways to adapt a building to your needs.
To learn more about adaptive reuse, read how a feasibility study can help assess an existing building.