How Does Zoning Impact Site Selection?

Site selection is one of the first steps of any building project. Before you can bring your vision to life, you need a location.
Although you can select a site before hiring an architect, architects can assist with the process. This approach gives you a more comprehensive understanding of the benefits and drawbacks of each option.
If you consult an architect during your site selection process, they will analyze many aspects of each potential site, including the local zoning regulations. Zoning can impact a site's use, the building's height and density, and even construction materials. As such, it's an important consideration for any building owner.
This article will introduce zoning regulations and explain how they impact building use. It will also discuss the process for rezoning a property and how an architect can help.
What is Zoning?
Zoning refers to local laws and regulations that govern property use. City planners create them to provide a road map for the type of development that can occur in different areas of a city.
Cities may set up zoning laws for a variety of reasons. They may wish to control traffic, reduce noise levels, protect natural resources, or simply prevent haphazard development.
On a broad scale, zoning separates cities into commercial, residential, industrial, and mixed-use areas—but regulations can extend beyond geographic zones. Zoning can also determine building heights, occupant numbers, and how far the building sits from the property line.
Cities can even specify uses per floor. For example, in many downtown areas, the first floors of residential buildings are zoned for commercial use.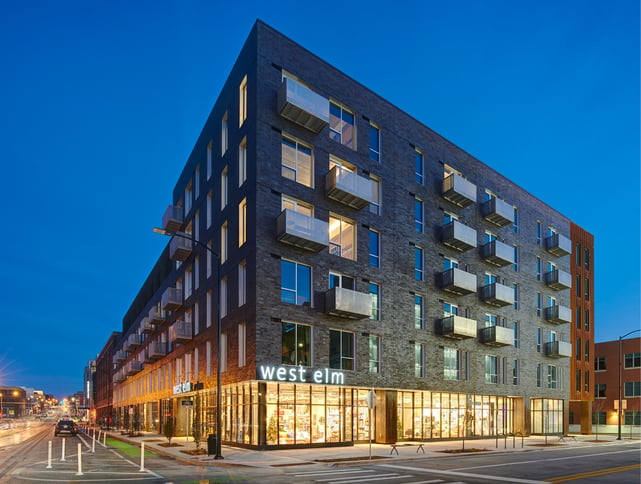 Ground floors of residential buildings may be zoned for commercial use.
How Do Zoning Laws Factor into the Site Selection Process?
Zoning can get complicated, but an awareness of local regulations will help you assess the viability of each site option.
An architect can help by researching local regulations and assessing the constraints of each site. In addition to land uses, they will help you determine the site's buildable area by researching:
Setbacks (the distance the building must sit from the property line)

Height requirements

Public uses or protected natural resources on the site
Some sites will specify a floor area ratio—the total amount of usable floor area divided by the total lot area. Floor area ratio requirements limit building density, and your architect can use the number to determine if the site will fit your operations. They can also use floor area ratio to calculate the number of floors you can build.
These calculations help determine if the site provides enough buildable space to accomplish your goals. Some sites may provide more buildable space than others but may not be in your desired location.
Your architect can help you weigh the benefits, drawbacks, and cost implications of each option, so you find a location that best serves your organization.
Can You Change Zoning Requirements?
Rezoning a property can be a complex and time-intensive process, though it is sometimes necessary to make a property viable for your project. If you choose to go down this route, an architect can help.
In addition to completing the necessary paperwork, you and your architect will need to meet with the planning and zoning commission and the city council to explain your project and goals. Your architect can provide preliminary sketches and help you make a case for how the project aligns with the city's zoning and master plan.
In some cases, you may need to meet with government bodies outside your city government. For example, you may have unlimited height in a given zone, but you'll likely need to consult the Federal Aviation Administration to determine your maximum buildable height.
Ready to Learn More?
Zoning regulations can impact anything from property uses to building density. When selecting a site, it is important to analyze zoning regulations to determine if the site can accomplish your goals.
An architect can help by calculating the buildable area, determining allowable uses, and helping you understand the cost implications associated with zoning requirements. They can also help you navigate the process of rezoning a property.
When selecting a site, you may consider renovating an existing building. Learn how a feasibility study can help you assess the viability of an adaptive reuse project.