Aging Facilities on College Campuses: Opportunities and Considerations

Across the country, higher education institutions are grappling with aging facilities. Between shifting enrollment numbers, changing student needs, and new modes of working and learning, 20th-century building stock is no longer meeting the demands of 21st-century institutions.
Higher education institutions are in a unique position. Campus leaders must oversee a large amount of built space, balance the shifting needs of departments, and take strategic advantage of new construction.
Post-pandemic challenges in higher education—combined with deferred maintenance and increased energy costs—may make aging facilities seem like financial burdens. While attractive, new construction is not always a feasible option.
Despite the challenges, higher education institutions are positioned to use existing facilities to their advantage. Renovation and adaptive reuse present an opportunity to reduce carbon emissions, preserve a collegiate identity, and make improvements with minimal disruption to campus life.
In our experience, improving aging facilities requires strategic planning. This article will discuss the opportunities aging facilities present and explain the process of planning incremental campus improvements.
Opportunities Aging Facilities Present
Embodied Carbon Reduction
Existing facilities present an opportunity to reduce the carbon emissions associated with demolition and new construction. Buildings account for nearly 40% of greenhouse gas emissions and building materials and construction account for another 11%.
Embodied carbon is the term used to describe the greenhouse gas emissions associated with materials and construction processes. It is calculated through an assessment of the emissions produced during a material's life cycle, such as the mining, manufacturing, and transportation of a material like steel.
While the building industry has made great strides in reducing operational carbon, less effort has been made to reduce embodied carbon, and unfortunately, there is no way to reduce embodied carbon once a building is constructed.
Reusing existing building stock is the best opportunity to reduce these emissions. The approach minimizes demand for new building materials and demolition waste. Campuses oversee a large amount of high-quality building stock, a responsibility that should not be taken lightly. Aging facilities can be assets in reaching sustainability goals.
If a building no longer serves its original purpose, a building can be repurposed for a new use. This practice is known as adaptive reuse and has been successful in many markets. Market One in Des Moines, for example, is an adaptive reuse project that transforms a turn-of-the-century farm equipment factory into a contemporary commercial building.
Adaptive reuse is also an opportunity to reduce operational carbon. Building rating systems like LEED and Living Building Challenge offer pathways to help older structures meet modern performance demands.
Learn more about embodied carbon by exploring the Carbon Leadership Forum's resources.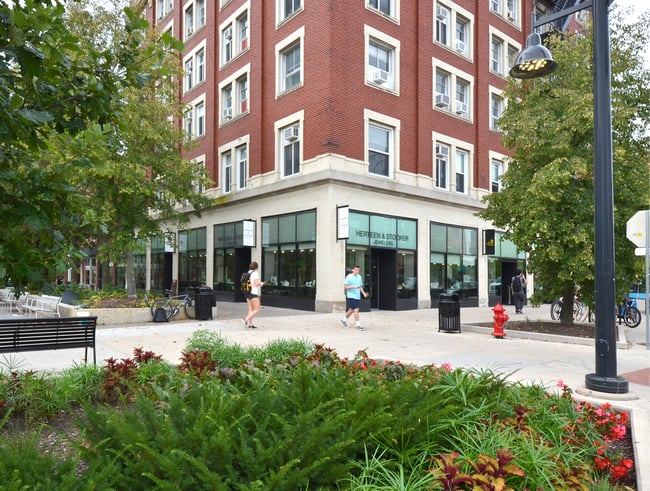 The adaptive reuse of a former hotel provides university offices.
Historical and Cultural Identity Preservation
Across the US, college campuses contribute to our architectural heritage. While some campuses developed through centuries of accumulated designs, others have a coherent design ethos inherited from early planning.
In either case, a campus is how an institution presents itself to the faculty, alumni, and the public. It is the tangible representation of an institution's identity. Older facilities are a key part of that identity and fabric and are opportunities to showcase values and history.
When addressing aging facilities, it's important to recognize the significance of these structures and the memories they may hold for students, alumni, and members of the public. Reusing existing building stock is a chance to preserve a sense of place and maintain a connection to those who have been a part of the university community.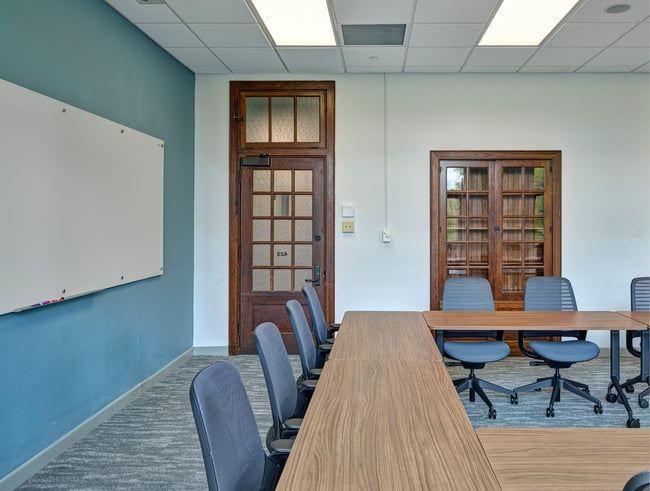 Renovations present a chance to preserve historic architectural features.
Reduced Costs and Disruptions
Renovations and adaptive reuse can also offer financial benefits. Generally, adaptive reuse and renovation projects are more cost-effective than new construction. Infrastructure is already in place, resulting in fewer trades and materials. In some cases, building reuse can reduce construction costs by as much as 50%.
Keep in mind that these financial benefits differ from project to project. Existing buildings can also present risks—including unforeseen site conditions, code compliance issues, and potentially hazardous materials. These risks should be considered when assessing the viability of a project.
Reusing existing building stock is also less disruptive to campus life. Depending on the project, building reuse can shorten construction schedules and reduce site work and mobilization. Phased renovations can even allow campus activities to continue while improvements are underway.
Improved Space Utilization
Many aging facilities on college campuses were designed for 20th-century pedagogy. Classrooms contain a row of desks pointed toward a central wall where an instructor or professor stands.
Technological changes and shifts toward more experiential learning models challenge traditional approaches to classroom design. There is a greater demand for hands-on, collaborative learning experiences.
Changes in pedagogy are coupled with a general shift toward hybrid work models. The pandemic presented students and staff with different ways of working, learning, and collaborating.
Older facilities may no longer serve their intended purpose in a post-pandemic learning environment. While disruptive, the pandemic has created an opportunity to evaluate space utilization and make learning environments more flexible and dynamic.
New buildings are not always necessary. Careful evaluation of existing spaces can lead to solutions that help universities prepare for the future and allow teaching practices to evolve alongside technological changes.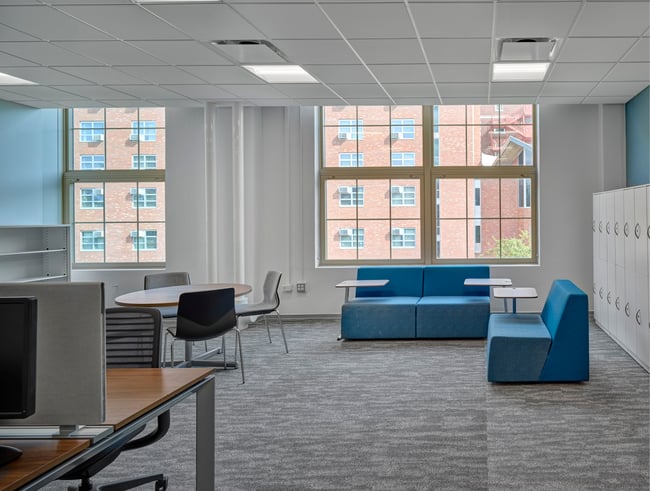 Spaces can be reconfigured for new ways or working and collaborating.
Creating a Strategic Plan for Existing Facilities
Addressing aging facilities is a large undertaking. With a large amount of building stock to oversee, higher education institutions must be strategic with improvements. A long-term plan can help you budget and phase projects.
An architect's job is to lead the planning process, listen, and respect the institution's historical development and its forward trajectory. By gaining a thorough understanding of your needs, an architect can help balance competing priorities.
Strategic Planning Process
Strategic planning for campuses begins with gathering stakeholders, hosting workshops and planning sessions, and setting goals. Your architect should understand current challenges, occupants' needs, and the institution's long-term goals.
They will also need to understand your sustainability goals and set targets for energy use.
After engaging stakeholders, your architect or planner will evaluate your existing building stock. This process can focus on a few select buildings or the entire campus. Evaluations occur on multiple levels—from systems and equipment to space utilization.
Typically, an evaluation will consider:
The building's current condition

Its ability to serve its function

Performance of its enclosure or skin

Thermal performance

Mechanical and electrical systems performance

Necessary maintenance

Architectural or historical features.
After evaluating your current facilities, they will review data and organize their findings. The goal is to plan all improvements for the next five to ten years. These improvements can range from minor repairs and replacements to large-scale renovations.
Working with your architect, you will prioritize the work ahead. While some improvements may be high priorities, others may be deferred for years to come. Priorities should align with the strategic goals of your institution, as well as budget considerations.
Learn More About Campus Planning
Higher education institutions are facing many challenges after the pandemic. While adjusting to hybrid models of working and learning, college campuses face shifting enrollment numbers, challenging financial conditions, and the ever-present need to modernize.
Although new construction may not be feasible under these circumstances, higher education institutions have an opportunity to evaluate existing facilities and reimagine them for 21st-century needs.
With a large amount of building stock to oversee, higher education institutions need a long-term strategic plan for maintenance and redevelopment. The planning process is an opportunity to engage stakeholders and align the built environment with the goals and values of your institution.
Following the pandemic, higher education is emphasizing Diversity, Equity, and Inclusion (DEI). Engaging a diverse group of stakeholders in planning sessions helps align the built environment with these administrative goals. Learn more by reading about DEI in campus planning.