Why Use a Green Building Rating System?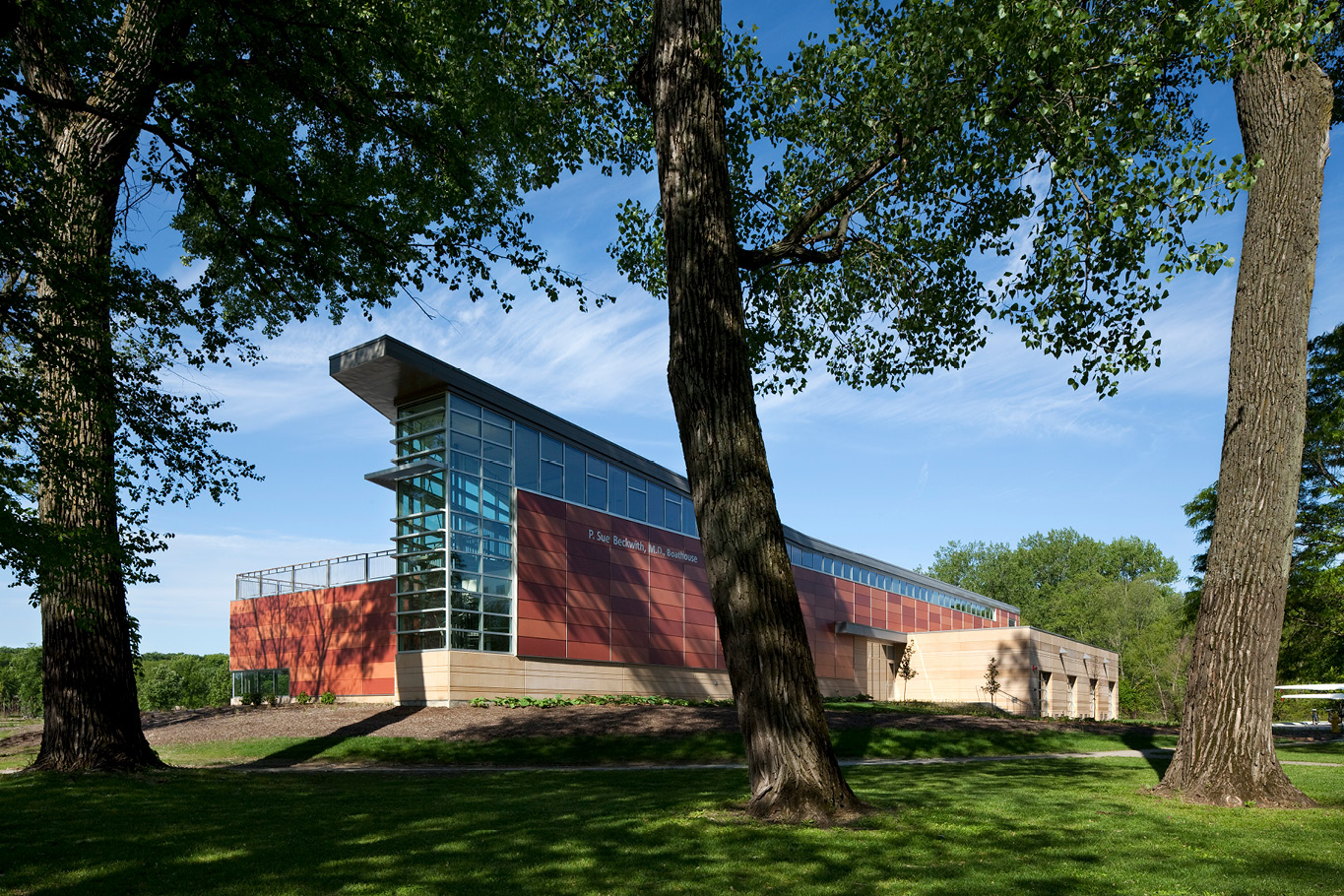 According to the American Institute of Architects, the built environment accounts for nearly 40% of greenhouse gas emissions, emphasizing the importance of architecture in the fight against climate change.
For sustainably-minded building owners, using a third-party green building rating system is an excellent way to minimize environmental impacts, increase accountability, and improve occupant wellbeing. These rating systems, however, require upfront investments that need to be aligned with project priorities.
At Neumann Monson, we are experienced in several rating systems, including Leadership in Energy and Environmental Design (LEED) and Living Building Challenge (LBC). To date, we have completed over 25 LEED-certified buildings and are currently working with the Stanley Center for Peace and Security to complete the first fully certified Living Building in Iowa. Sustainability is one of our top priorities, which is why we want to educate anyone who is undertaking a building project.
This article will help you decide if a third-party green building rating system fits your project or not. By the end, you will know the difference between the most popular rating systems, the benefits of using a rating system, and the potential hang-ups you might face during design and construction.
Popular Green Building Rating Systems
Many products and organizations claim to be sustainable but not all can substantiate their claims. Third-party rating systems provide proof. On building projects, third-party rating systems verify the architect, contractor, and consultants fulfilled their promises and that the building was designed and is operating sustainably.
There are several green building rating systems on the market. The most popular include:
Leadership in Energy and Environmental Design (LEED)
Sustainable SITES Initiative (SITES)
WELL
Zero Energy Certification
Living Building Challenge (LBC)
Each system takes a different approach and offers different benefits. LEED and LBC are the most holistic, while WELL, SITES, and Zero Energy fit more specific niches. Determining which rating system fits your project depends on your goals and values.
Here is a brief breakdown of each system:
LEED
LEED is the most widely used green building rating system. Overseen by the US Green Building Council (USGBC), LEED provides a framework for healthy and energy-efficient design.
Buildings can earn points in several categories, including:
Location and transportation
Energy use
Materials
Water efficiency
Site sustainability
Indoor environmental quality
Innovation
Based on the number of points they earn, buildings can achieve either a Certified, Silver, Gold, or Platinum ranking.
SITES
SITES focuses on site conditions and landscapes. The program provides a framework that helps landscape architects, engineers, and others protect the ecosystem and enhance communities. Like LEED, SITES awards points for different categories, including
Water demand
Stormwater filtration
Wildlife habitat protection
Air quality
Recreational opportunities.
The program complements LEED, with LEED focusing mainly on the building and SITES focusing on the land on which the building is located. As such, the two programs can be used separately or in tandem.
WELL
WELL measures and monitors building features that impact human health and wellbeing.
It provides a framework for increasing occupants' mood and productivity, reducing the spread of disease, and promoting healthy lifestyles. Like LEED and SITES, WELL uses a point system. Buildings can earn points in ten categories:
Air
Water
Nourishment
Light
Movement
Thermal comfort
Sound
Materials
Mind
Community.
Zero Energy Certification
Zero Energy is the only international zero energy certification. Designed by the International Living Future Institute (ILFI), it certifies a building has achieved zero energy performance. To be certified, the building must
Produce 100% of its energy needs on-site
Use only non-combustible sources of energy by harnessing power from the sun, wind, or earth
Certifications are based on actual performance, rather than expected or modeled or performance. The building must operate at net zero for at least 12 consecutive months before certification can occur.
LBC
LBC is the most rigorous green building rating system to date. Designed and administered by the ILFI, the program promotes restorative design that gives back to the environment and community.
Unlike point-based rating systems, the LBC judges buildings against seven sets of criteria known as "petals." The petals include
Place
Water
Energy
Health and Happiness
Materials
Equity
Beauty
Buildings can either receive a partial "Petal" certification or a Full Living Building certification. Fully certified buildings produce 110% of their energy onsite and offset their water usage.
The Benefits of Using a Green Building Rating System
Using a third-party green building rating system offers many benefits, energy efficiency being the most obvious. According to the Department of Energy, LEED-certified buildings have a 25% lower energy use than national averages. Likewise, fully certified Living Buildings are net positive, giving 10% of their power back to the grid.
For building owners, energy efficiency significantly reduces the life cycle costs of building ownership through utility savings.
Using a green building rating system also benefits building occupants. Each system emphasizes the importance of occupant health, especially through biophilic design elements like daylighting.
Studies show that occupants in WELL-certified buildings are less likely to take sick days. It's even been suggested that patients in LEED-certified hospitals have faster recovery times. For developers, healthy interior environments can help attract and retain tenants.
Taken together, environmental consciousness and occupant wellbeing form a powerful marketing tool. Whether you are talking with your Board of Directors, your employees, or the public, a certified green building becomes a tangible representation of your organization's values.
The Drawbacks of Using a Green Building Rating System
Despite the benefits, not everyone has the resources or time to invest in a green building rating system. Following third-party guidelines can slow a project's timeline. For example, applications often require project teams to complete additional paperwork and allocate time toward material and product research.
At the same time, you will need to invest in certification fees, which vary depending on the system. LEED review and certification fees can range from $4,000-5,000, and SITES certification fees can range from $8,000-9,000. The baseline price of WELL certification is $9,000, while LBC fees will differ depending on square footage. On top of these fees, you may also need to invest in supplemental services like energy modeling, life cycle research, and consultancy.
Some building owners will also need to train their facilities staff or hire specialists. Technologies like solar arrays, water capturing systems, and geothermal heating and cooling systems require on-site expertise. Training your staff to operate and maintain this equipment may be an added project cost.
Learn More About Sustainable Design
Although green building rating systems present additional up-front costs, sustainably designed buildings often reduce long-term operating expenses. For some building owners, these long-term savings significantly outweigh any initial investments.
When you are planning your building project, it is important to weigh your long-term goals against your budget. Sustainability and fiscal responsibility can work together, especially when you work with an architect who finds innovative solutions.
Sustainability is not limited to solar arrays and high-performance technology. Material selection and interior design also play a key role in minimizing your carbon footprint. To learn more, check out our guide to sustainable interior design.