Benefits of Consolidating Public Works Facilities

Public works are the lifeblood of our communities. They provide essential services—from the water in our taps to the roads we take to work. Unfortunately, public works facilities can be overlooked—with workers operating out of outdated buildings scattered across the city.
We have worked with several communities that have consolidated public works services into a centralized location. Iowa City consolidated the vehicle and storage needs of five public works divisions into one facility, and Cedar Rapids City Services moved 14 departments to a single location. Des Moines Municipal Services centralized over seven departments, including the Department of Public Works and Parks and Recreation.
In our experience, consolidation is an opportunity to improve efficiency, reduce a city's carbon footprint, and save taxpayer dollars. Perhaps most importantly, it creates a more effective work environment for a city's most essential workers. This article will discuss these benefits in greater detail.
4 Benefits of Consolidation
1. Reduced Travel
Consolidating city services into a single facility or campus can reduce travel times and create operational efficiencies.
Before creating a centralized campus, Cedar Rapids City Services had separate locations for vehicle repair and storage. Workers had to get a ride after dropping off vehicles in need of repair. The new facility placed storage and maintenance under one roof, reducing commute times.
Consolidation also created efficiencies for Iowa City Public Works. Previously, workers had to access separate, satellite locations during routine situations and emergencies. Consolidation reduced the carbon emissions associated with travel—diverting approximately 20 tons of CO2 emissions annually.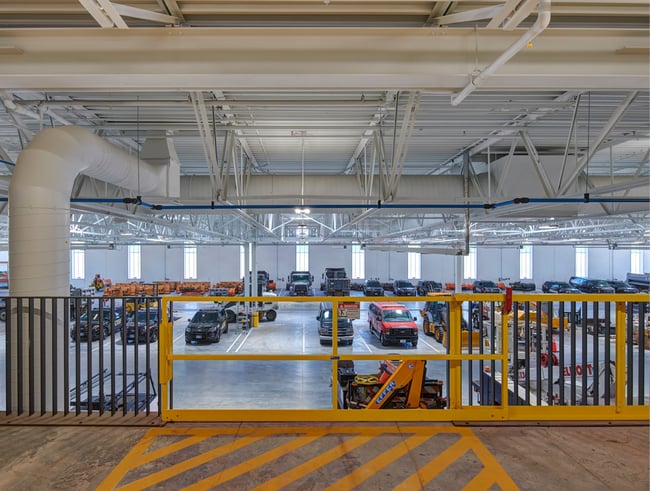 Consolidated vehicle storage at Iowa City Public Works.
2. Reduced Operational Costs
A consolidated public works facility can also reduce operational costs.
Maintaining multiple satellite facilities can increase energy consumption—especially when facilities are outdated and inefficient. When new facilities are designed with energy efficiency in mind, cities see a return on investment.
Iowa City Public Works' new facility saves taxpayers approximately $300,000 to $400,000 annually, while Cedar Rapids City Services saw a return on investment in just 1.8 years.
Operational savings are not limited to high-performing building systems. A functional layout can also improve efficiency in ways that are more difficult to quantify. For example, the floor plan at Iowa City Public Works makes it easier for vehicles to enter and leave the building, reducing idle times and fuel consumption.
3. Improved Communication
In routine situations and emergencies, a consolidated facility can improve cross-department collaboration and efficiency. It can also help supervisors better communicate with employees and provide them with direction.
Workers often take note of these improvements. In a post-occupancy evaluation of Iowa City Public Works employees, 86% of respondents felt the new facility improved efficiency and collaboration.
When considering personnel costs, consolidation offers a quick return on investment. A more efficient work environment allows workers to serve the community more effectively.
4. More Equitable Communities
The effectiveness of public works impacts a community's health, and a more efficient and cost-effective public works department can serve the community more equally.
Take snowstorms, for example. Workers must clear the most highly trafficked areas first, and rural areas or residential neighborhoods may have to wait. When workers can easily access equipment at a centralized location, they can service all areas quickly—equally serving the population.
These situations demonstrate the importance of public works. Investing in these often-overlooked facilities is an investment in a community's future.
Learn More About Public Works Facilities
Consolidating services is a growing trend for cities across the Midwest—and it's easy to see why. A consolidated public works facility can help workers do their jobs more effectively by reducing travel times and facilitating cross-department communication.
These operational efficiencies translate to the taxpayer by reducing costs and improving services.
When new facilities are designed with flexibility and energy efficiency in mind, cities are likely to see a financial return on investment. They are also better prepared for future climate changes and potential natural disasters. Learn more by reading about the green design strategies implemented at Iowa City Public Works.