How to Evaluate and Prioritize Building Site Options

Selecting a building site is one of the earliest and most important decisions on a building project. Along with your initial project cost, your choice will likely affect your organization and its operations for years to come.
While some owners purchase a site before hiring an architect, others may need assistance. We've helped numerous owners select a building site before starting design work, including the Stanley Center for Peace and Security and UIHC at Forevergreen Road.
Our process involves getting stakeholder input, setting criteria, determining priorities, and creating a matrix to help you score and rank your options. This article will discuss this process in greater detail, helping you understand how to evaluate sites.
Three Steps for Evaluating Potential Building Sites
1. Establish Criteria
Like all early decisions on a building project, your choice of building site should receive stakeholder input. Those directly affected by the project should feel bought into decision-making and confident in the outcome.
We recommend hosting a workshop to set site criteria for evaluating your site options. At the start of the workshop, your architect may present some high-level factors to consider. These factors can include:
Sustainability: The site's ability to reach your organization's sustainability goals.

Daylighting: The site's potential to distribute daylight evenly and control glare.

Views: The availability of views in multiple directions.

Flexibility: The site's ability to fit your building's program or allow for growth. On renovations, your architect will assess the building's foundations and the potential cost of adapting the space.

Amenity access: The site's proximity to restaurants, shops, hotels, or public transit.

Parking access: The site's proximity to parking or its ability to provide parking spots.

Resiliency: The site's ability to withstand flooding, tornadoes, or other extreme weather events.

Visibility: The site's presence within the community and its adjacency to high-traffic areas like pedestrian walkways or roadways. These adjacencies can be crucial for retail and hospitality clients.

Acoustics: The site's distance from roadways, railways, or industrial plants that may pose acoustic problems.

Pristine or developed site: The presence of existing structures or the potential for contaminated soil conditions. For example, sites formerly housing gas stations or dry cleaners may require soil remediation before redevelopment.

Initial Cost: The price of purchasing the site. Some sites may contain additional hidden costs, especially if they require remediation or present construction constraints.
Depending on your project goals, you may consider other factors outside this initial list. For example, some organizations may consider cultural and historical factors and may limit their search to neighborhoods or areas that connect to their mission.
Other organizations may have security concerns. For example, some civic structures must implement passive security measures into the site's design and desire a location that aligns with these goals.
Additionally, your architect should help make these high-level factors more project-specific. How does your organization define sustainability? What type of views do you desire? In what spaces is daylighting most important?
A thorough discussion about these criteria will lead to a more engaging workshop and tailored evaluation.
2. Prioritize Criteria
After discussing your site selection criteria, it's time to set priorities. Depending on your project goals, some factors will take precedence over others.
Some may value visibility more than acoustics. Others may value amenity access more than parking. To help you find the best option, your architect needs to understand the importance of each factor.
In the workshop, your architect will break stakeholders into small groups. Each group will discuss the criteria and rank their importance.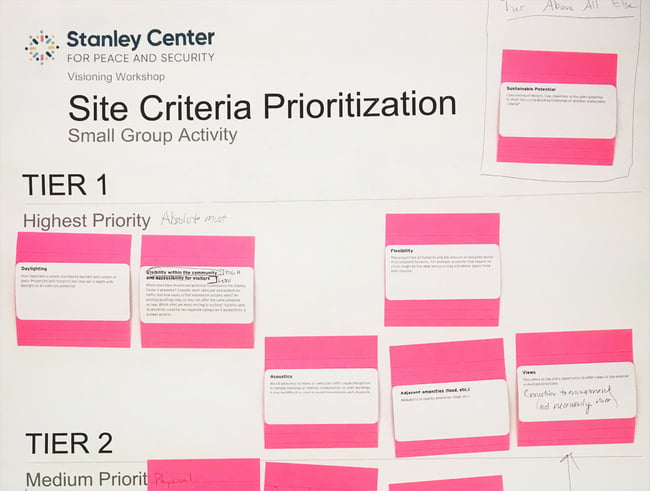 In groups, your team will rank the importance of each criterion.
After, in a large group discussion, you will discuss each group's rankings and form a master list to inform future evaluations. Your architect can then create a matrix to rank your site options by assigning numerical values to each criterion.
3. Rate and Select Sites
The matrix is a more objective way to evaluate sites and find a location that aligns with your project's goals. Your architect can join site visits, collect data, and use the matrix to score each option.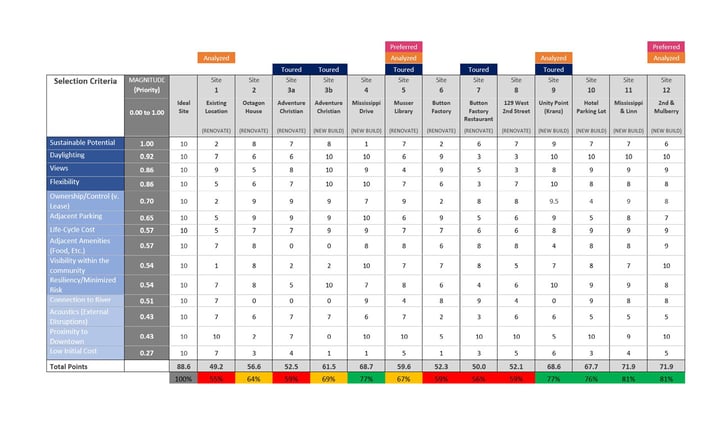 A matrix can help you evaluate and rank each site option.
Although this approach is data-driven, it's not an exact science. An emotional connection to a property can be difficult to define in a spreadsheet.
Such was the case with the Stanley Center for Peace and Security. The selected site—the former Musser Public Library—fell into the middle of the matrix, receiving a lower score than other options.
Although it aligned with the client's sustainability goals, it provided limited views and little parking access. However, the Stanley Center team recognized the building's community importance and the opportunity to deepen their connection to Muscatine.
In the end, this historical and community connection took precedence over other factors.
Learn More About Site Selection
An impactful building project starts with the right location. Your site choice is likely to affect your project cost, construction timeline, and your long-term goals. Carefully evaluating your options before starting design work is the best approach.
An architect can help evaluate your options. Our approach involves getting stakeholder input, prioritizing criteria, and creating a matrix to assign each site a ranking. A thorough discussion about your project's goals and future operations will make the analysis even more effective.
For some organizations, sustainability is a driving factor behind site selection. Some sites are more sustainable than others, providing walkability, solar access, and better stormwater management. Learn more by reading about the factors that impact a building site's sustainability.