7 Investments that Improve Building Performance

A building project is an opportunity to reduce your energy consumption and operational costs, and throughout the design process, you can expect to discuss building performance with your architect.
During these discussions, consider your Return on Investment (ROI). While some high-performing systems may increase your initial budget, you will make up the cost through energy savings. Focusing on the systems that provide an ROI will help you get the greatest value for your dollar.
This article will discuss the systems and services that have the most significant impact on performance and provide an ROI—helping you decide where to invest your budget.
Systems and Services that Improve Building Performance
1. High-Performing Mechanical Systems
The primary job of a mechanical system is to heat and cool interior spaces and circulate fresh air. Mechanical systems tend to have the greatest impact on energy costs, so it's important to explore your options.
Highly efficient mechanical systems have a higher initial cost but offer a significant ROI. For example, a geothermal ground-source heat pump system has a higher initial cost than a traditional Variable Air Volume (VAV) system due to additional on-site equipment installation.
However, the efficiency of the geothermal system offers a quick payback through energy savings, and smaller heat pump distribution components are often less expensive to replace than traditional rooftop units.
In short, a mechanical system is not something to take lightly. Your architect and mechanical engineer can analyze life cycle costs and help you weigh your options.
2. Renewable Energy Systems
On-site renewable energy sources like solar panels reduce your building's Energy Use Intensity (EUI), the amount of energy used per square foot annually. They also reduce your reliance on the centralized power grid, lowering energy costs.
Like high-performing mechanical systems, renewable energy sources offer a quick payback. Many organizations can also receive tax credits for investing in renewable power. For example, the Inflation Reduction Act extends the Energy Investment Tax credit for investments in solar power, waste energy recovery systems, microturbines, and more.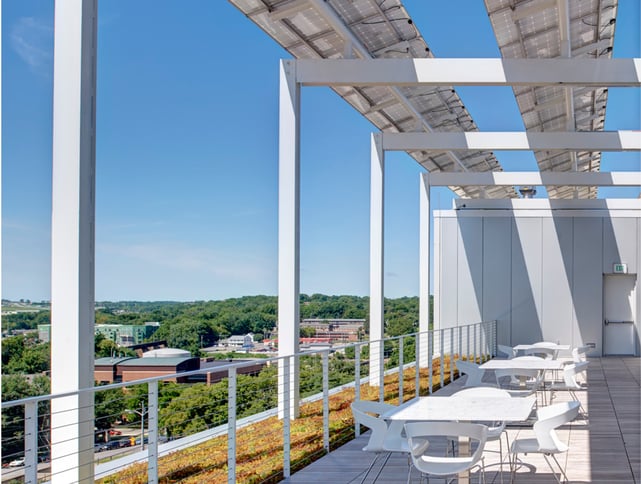 Solar panels reduce your EUI and offer a short payback.
3. Additional Insulation
Buildings tend to lose heat through gaps in the envelope, a problem known as thermal bridging. Investing in extra insulation and appropriate air barriers can make the building more airtight and reduce the likelihood of heat loss.
Additional insulation can have a diminishing ROI. Eventually, energy savings will not make up for the incremental cost. Your architect, working with energy modelers, can help you find the right balance of performance and cost.
ROI is only one consideration when determining insulation thickness. Additional insulation can enhance occupants' thermal comfort—a benefit that is hard to quantify.
4. Energy-Efficient Equipment
Plug load refers to the energy used by equipment plugged into outlets, including computers, printers, appliances, and more. Reducing your plug load can be challenging, but small tweaks can go a long way.
Investing in energy-efficient appliances can help reduce your overall plug load, and depending on your organization, these investments may be eligible for tax credits. Similarly, you can invest in technology that manages equipment so that it adjusts to occupancy requirements and optimizes its use.
5. Site Selection Services
Solar orientation—the building's direction relative to the sun—significantly impacts building performance. Proper solar orientation can reduce your reliance on a mechanical system by keeping the building naturally cool in warmer months and warm in cooler months.
The building site's natural features impact the effectiveness of solar orientation. Although you can find a site on your own, an architect can assist with the process.
Site selection is usually a supplemental service but can provide a financial return. If you choose to invest in site selection services, your architect will help analyze zoning requirements, site and building capacity, environmental services, and tree coverage to help you find a site with optimal solar access.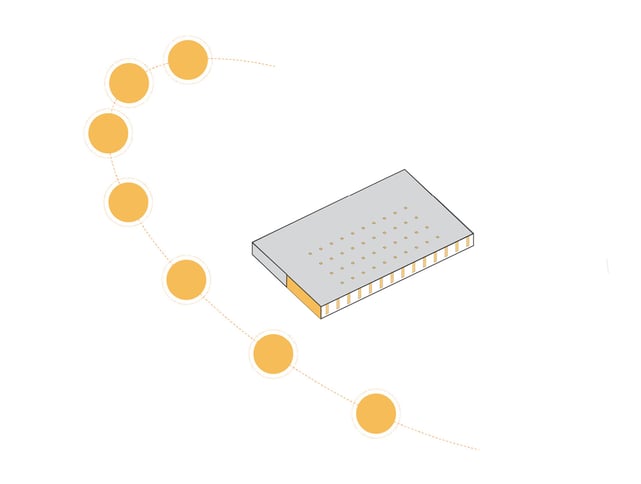 Your architect can analyze site options for solar access.
6. Energy Modeling Services
Energy modeling is the process of running a design through software to analyze the building's potential energy consumption. Early in the design process, your architect will use energy modeling software to test massing options (the building's shape), orientation, and daylight access.
Additional energy modeling can occur throughout the design process to test options for mechanical and electrical systems, equipment, and more. Often, an architect will consult a third-party specialist for more detailed modeling. Although detailed modeling is an additional investment, it can greatly improve your building's performance and has a proven ROI.
7. Commissioning
Commissioning agents are third-party specialists—usually mechanical and electrical engineers—who review documents and construction work. They help ensure systems are designed and constructed to your expectations and operate correctly before you occupy the building.
Mechanical and electrical commissioning agents will assess HVAC equipment components, thermostats, lighting controls, and any other building systems that impact performance. You can also hire an envelope commissioning agent to check windows, doors, curtain walls, and roof assemblies.
An independent expert set of eyes can go a long way—especially on large and complex projects. Although commissioning is an additional cost, it minimizes inefficiencies and reduces the likelihood of future maintenance issues. A US Department of Energy study has shown a median ROI of under a year for these types of services.
Learn More About Building Performance
Sustainable design is a long-term investment. By focusing on the systems and services that have the greatest impact on performance, you can maximize the value of your dollar. From mechanical systems to commissioning services, strategically investing your budget will help you achieve a desirable ROI on your building project.
But building performance is not limited to energy consumption. A building should also perform well for its occupants. Investing in daylighting strategies and healthy interior materials can help improve occupant health, boost productivity, and reduce absenteeism and turnover.
Learn more by reading about long-term personnel costs and design strategies that improve occupant health and well-being.