Neumann Monson Opens Our Renovated Iowa City Studio

On November 8th, Neumann Monson hosted a public open house to celebrate our newly renovated Iowa City studio. The event allowed visitors to meet our team and explore the renovation's sustainable design features.
Renovating our studio has been years in the making. The design process included input from the entire Neumann Monson team, leading to a space that reflects our culture, values, and how we work.
This article will dive into the project, its goals, and the features and systems found throughout the studio.
Project Background
The renovation developed from the realization that our previous studio—designed in 2006—no longer fit our digital world. Once necessary spaces like a file storage room were underutilized, and workstations designed to fit architectural plan sets seemed oversized.
At the same time, the space was not conducive to virtual meetings, with noise traveling easily. Our team needed a greater variety of spaces—including dedicated focus and collaboration areas—to fit different activities.
As we began the design process, we wanted a third-party system to ensure excellence and accountability. After exploring several building certification systems, the team landed on the Living Building Challenge (LBC).
The LBC is the industry's most rigorous and holistic approach to sustainable design—addressing everything from energy and water consumption to material sourcing and occupant well-being. Its CORE certification pathway was well-suited for the project's goals and budget.
Through workshops and ideation sessions with the entire Neumann Monson team, we formed a list of goals that drove design decisions, including:
Foster community and collaboration

Reduce our carbon footprint

Improve occupant well-being

Use honest and healthy materials

Create a multi-sensory environment
These goals were reflected in the final design, leading to a dynamic workspace accommodating different ways of thinking and learning. Below, we'll discuss these design strategies in greater detail.
Fostering Community and Collaboration
The studio's design promotes collaboration and the cross-pollination of ideas. Before the renovation, only 43% of our studio was dedicated to collaboration. Reducing the size of our workstations allowed us to increase this size to 65% of the working area. In an age of digital work, large workstations are no longer necessary, allowing us to dedicate more space to group work.
Rooms of various sizes, privacy levels, and tech features allow team members to meet in person and work through ideas. One example is the Forum at the studio's heart, where team members can work through design solutions at pin-up and marker boards.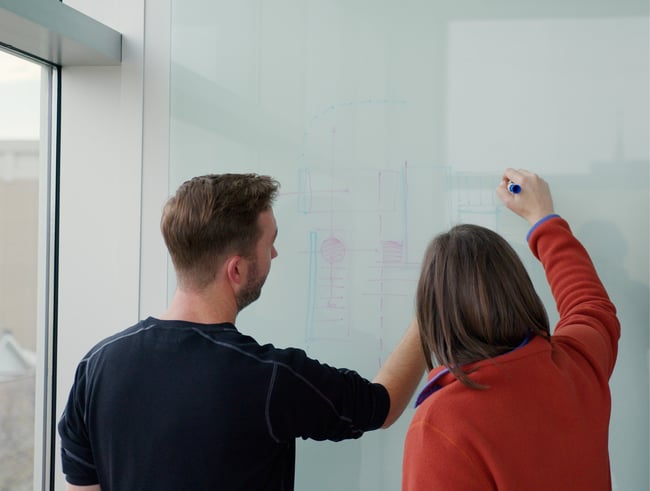 Markerboards made from repurposed glass aid collaboration in the Forum.
The design team also aimed to strengthen our community. The open kitchen was placed near the entrance to provide more space for socializing. In our previous studio, the enclosed break room was only used during lunch hours. The new, open space provides flexibility for meal breaks, happy hours, chance interactions, and community events.
Reducing Our Carbon Footprint
Following the CORE certification program, reducing our studio's carbon footprint was one of the renovation's primary goals. The design team worked to reduce both embodied and operational carbon. While embodied carbon refers to the emissions associated with construction and building materials, operational carbon refers to the emissions necessary to power a building.
One of the most effective ways to reduce embodied carbon is to reuse existing building stock, the approach taken with our renovation. Going a step further, we also reused materials from our previous studio.
All ceiling tiles and doors came from the previous studio, as well as 99% of the glass. Many glass doors and panels were repurposed into marker boards. 76% of the casework also came from the previous studio, with worn elements retouched.
This approach helped reduce our carbon footprint by 20% compared to a similarly sized workplace design project. It also helped keep the project within budget during supply chain shortages.
To improve operational performance, we switched to a Variable Refrigerant Flow (VRF) mechanical system. This system transports heating and cooling through small pipes and is all-electric, preparing our studio for a full transition to renewable power. Compared to a similarly sized workplace, our studio uses 41% less energy.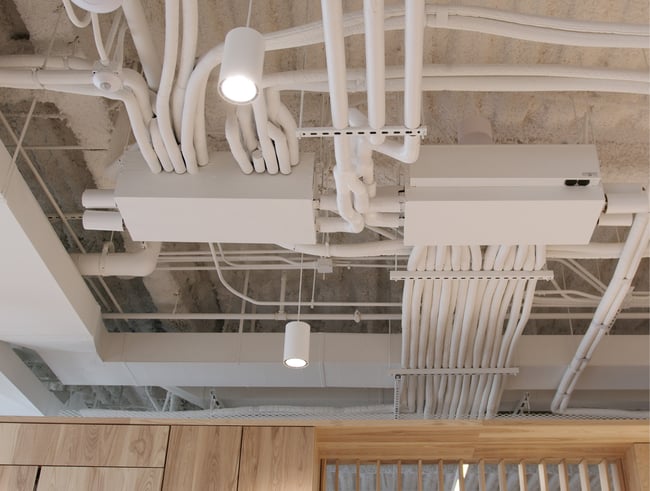 A VRF system helps reduce the studio's energy consumption.
The VRF mechanical system also includes a condensate recovery system to reduce our water consumption. Typically, condensation from cooling systems flows into the sanitary sewer, but a condensate recovery system saves this chlorine-free water for non-potable uses, like watering the studio's many plants.
Improving Occupant Well-Being
With people spending 90% of their time indoors, the health and safety of the built environment is paramount. The studio's design emphasizes flexibility and choice, allowing everyone to work in a way that best suits their needs. While spaces like the Forum promote collaboration, private focus rooms are designed for "heads down" work and video calls.
In the open working area, an absorptive material on the ceiling helps control noise, and occupants can control their comfort with height-adjustable desks. A dedicated wellness room provides a space for occupants to take a break or attend to health needs.
Following LBC guidelines, the studio promotes equal access through Universal Design principles. Features like 34-inch height countertops and easy-to-pull cabinets help ensure the studio is usable by everyone to the greatest extent possible.
Using Honest and Healthy Materials
In addition to reusing existing materials, the design used natural, locally produced products whenever possible. Materials like blackened steel, rebar, and ash hardwood were chosen for their ability to reveal age and wear over time.
Approximately 40% of the materials came from within a 300-mile radius. The most local example is the ash hardwood featured on the kitchen, tabletops, and workstations.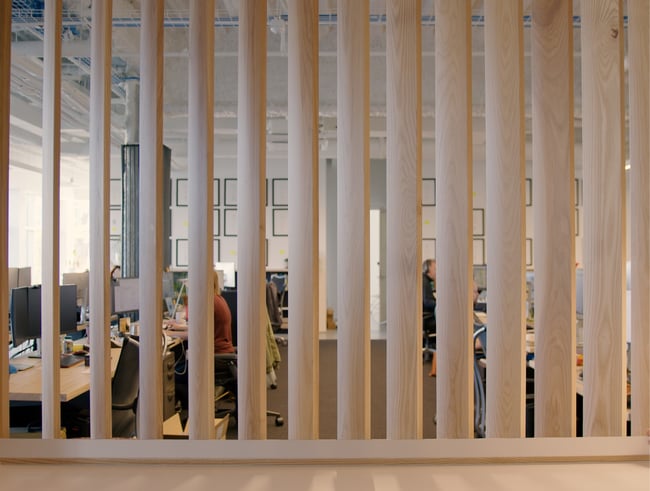 Ash hardwood dividing the kitchen from the work area.
Sourced from the Iowa City and Coralville Parks Departments, this urban lumber was either dead, dying, storm-damaged, or infected by the Emerald Ash Borer. The wood was processed by Koffron Hardwoods in Tiffin and assembled by craftspeople at McComas-Lacina Construction in Iowa City before arriving on-site.
Creating a Multi-Sensory Environment
Biophilic design is the practice of connecting occupants to nature within the built environment. Known to reduce stress and boost moods, these strategies are central to any LBC project.
One LBC requirement is an all-day biophilia workshop hosted in the early stages of the design process. In the workshop, project stakeholders should explore biophilic design strategies and create a framework to drive future decision-making. Hosted in July 2022, our workshop included an ecologist and community members and helped inspire many design decisions.
Gathering spaces like the Forum are within view of the building's shared rooftop terrace, inviting social events to flow outdoors. Similarly, 92% of regularly occupied spaces have access to daylight and views, with casework elements along the perimeter minimized to enhance sight lines.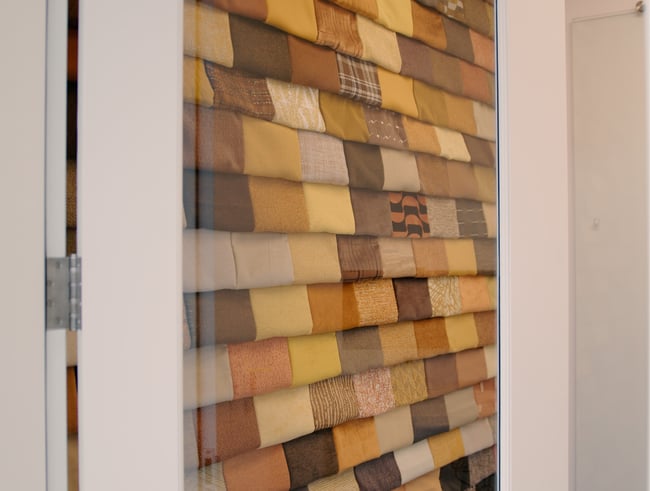 Focus room artwork is inspired by Iowa City neighborhoods, like the Northside.
Tactile areas like the workstations and the kitchen contain solid ash surfaces harvested locally in Iowa. Reflecting our community, conference and focus rooms are named after Iowa City neighborhoods, with hand-made acoustic wall treatments inspired by each location's unique identity.
Learn More About Workplace Design
Within the last few years, the workplace has undergone a significant change. The 2020 pandemic changed how we work, forcing many companies to go remote. Today, the pandemic's effects linger, with many companies adopting flexible, hybrid policies.
These changes require new approaches to workplace design. As we learned from our renovation, the contemporary workplace requires various spaces for people to work in a way that best suits their needs. It should also serve as a culture hub, a place for your team to gather, share ideas, and socialize.
Companies should look for ways to better utilize commercial space and attract employees to the office. Learn more by reading about how to make the office more attractive.