What is Embodied Carbon, and How Can You Reduce It?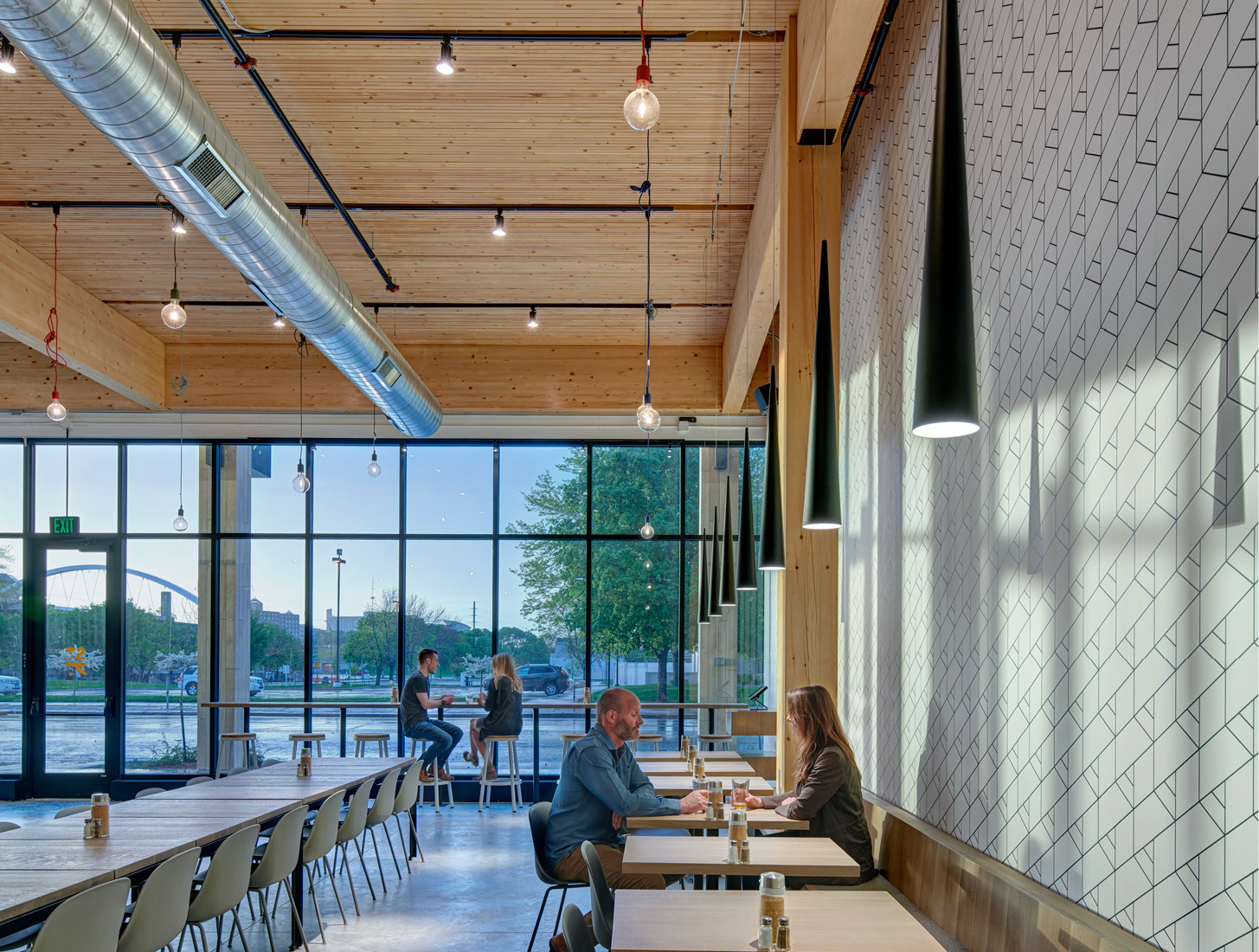 With buildings accounting for nearly 40% of greenhouse gas emissions, architects are on the frontline in the fight against climate change. Every new project is an opportunity to reduce emissions and develop a more sustainable and resilient built environment.
Most sustainable design practices focus on reducing the carbon emissions buildings emit through energy use—their operational carbon. But a building's environmental impact extends beyond its operations. One impact is embodied carbon—the emissions released during the life cycle of a material or system.
At Neumann Monson, we are committed to a more sustainable future. We have joined the AIA's 2030 Commitment, an initiative that calls for all new buildings, developments, and renovations to be carbon-neutral by 2030.
One of our goals is to reduce embodied carbon by developing innovative solutions and educating our clients on the best practices. This article will explain embodied carbon and discuss the most effective strategies for reducing these emissions.
What is Embodied Carbon?
Embodied carbon is the total greenhouse gas emissions released during the life cycle of a material, product, or system. It is calculated by tracking the emissions associated with each phase of a material's life cycle, including:
Raw material extraction

Transportation

Manufacturing

Construction

Maintenance

Disposal
Of the 40% of greenhouse gas emissions released by the built environment, 13% are related to materials and construction.
Embodied carbon is one of the biggest challenges for the building industry. While we can work to improve a building's performance and reduce operational carbon emissions, embodied carbon cannot be taken back. Emissions have been released before we even turn on the lights.
However, embodied carbon is an area where architects can make a difference. As the prime specifiers of materials and systems, we can educate building owners and promote low-emitting options.
How Do You Reduce Embodied Carbon?
Reducing embodied carbon requires a holistic approach. The best solution is to renovate existing buildings or modify them for new uses. When specifying new materials and systems, architects should research emissions and compare options.
Reusing an Existing Structure
Reusing an existing structure is the most effective way to reduce embodied carbon. This practice decreases the demand for new building materials and the carbon emissions associated with demolition.
According to the Environmental Protection Agency, it can take 65 years for an energy-efficient building to save the energy lost in demolishing an existing one.
In many cases, an existing building can be repurposed to fit a new use—a practice called adaptive reuse. For example, Market One in Des Moines transforms a turn-of-the-century farm equipment factory into a modern commercial building. Similarly, the Stanley Center for Peace and Security chose Muscatine's former public library for its new headquarters.
Renovations and adaptive reuse should include rigorous waste management strategies. Recycling materials and reusing existing elements help reduce embodied carbon and costs. Your architect should work to maintain the largest systems and material masses to minimize replacements.
Reusing an existing building can present challenges, but an architect can help with the site selection process and evaluate the feasibility of different options.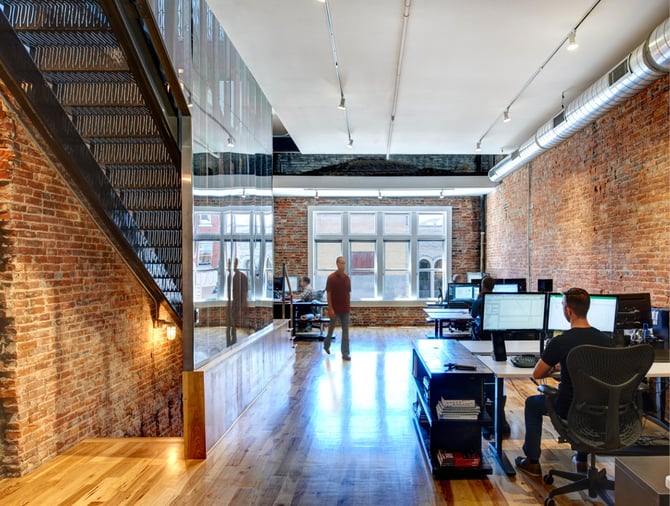 Building reuse is the greatest opportunity to reduce embodied carbon.
Efficiency in Layouts
Efficient space planning can also help reduce embodied carbon. To minimize materials, architects should be rigorous in their approach and make efficient use of space.
Efficiency also extends to interior finishes, and designers should work to remove unnecessary elements and develop a minimal palette.
Planning a degree of flexibility can help reduce future embodied carbon emissions. A building's use will likely change over time, so it helps to anticipate future modifications. A flexible layout helps a building maintain its use as occupants' needs change, reducing the likelihood of demolition.
Material and Systems Research
Reducing embodied carbon requires research into building materials, systems, and their associated emissions. Programs like Tally Carbon Calculator provide product data and help designers compare options.
Thousands of materials go into every building, so it helps to focus on the areas of greatest impact, like structural systems.
A concrete structural system has high levels of embodied carbon due to its energy-intensive production process. Steel has slightly lower embodied carbon levels, though it's still less than ideal.
Systems made from sustainably sourced wood have the lowest embodied carbon levels. Wood sequesters carbon within the building, making structural systems like mass timber the most sustainable choice.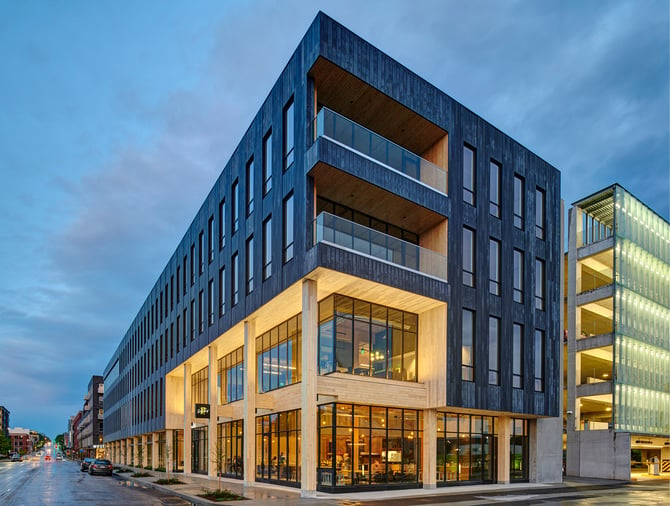 Mass timber structural systems have some of the lowest levels of embodied carbon.
Exterior cladding is another area where embodied carbon research can make a significant impact. At the Stanley Center, we explored reusing the existing red brick façade, but the need for additional insulation led us to a new cladding system. Research into embodied carbon informed the choice to use naturally-weathering Accoya wood.
Although larger building assemblies like cladding have the greatest impact, this type of research can occur at all levels of the project, including interior finishes.
The AIA's Architecture & Design Materials Pledge encourages designers to be more intentional with how they specify products by considering human health, environmental, and economic impacts. It provides a framework to help designers research and promote low-emitting, sustainable products.
Learn About Building Reuse
Reducing embodied carbon has become one of the top priorities for the architectural profession. Although we have made strides in reducing operational carbon, we need a holistic approach to achieve a net-zero built environment.
Reusing an existing structure is the most effective way to reduce embodied carbon emissions. Adaptive reuse projects provide the opportunity to prevent demolition, minimize waste, and reuse materials. At the same time, they offer the opportunity to preserve historic buildings and revitalize communities.
Often, these projects present financial incentives like tax credits. Learn more by reading about financial incentives for adaptive reuse in Iowa.