Take-Aways from the 2022 AIA Women's Leadership Summit

The American Institute of Architects (AIA) Women's Leadership Summit (WLS) is an annual conference that celebrates and empowers women in the profession.
WLS 2022 took place in San Jose, CA at the San Jose Center for Performing Arts—designed by the Frank Lloyd Wright Foundation. Over 700 attendees from across the country attended to listen and learn from women in architecture, urban planning, community design, engineering, and construction.
I had the pleasure of attending WLS for the first time with fellow NM-ers Sarah Noble-Hagerty, Sally Obernolte, and Amy Guhl. In addition to a bonding experience, it was a unique opportunity to engage with women in the field and discuss pertinent issues.
Here are a few of my key takeaways from the event.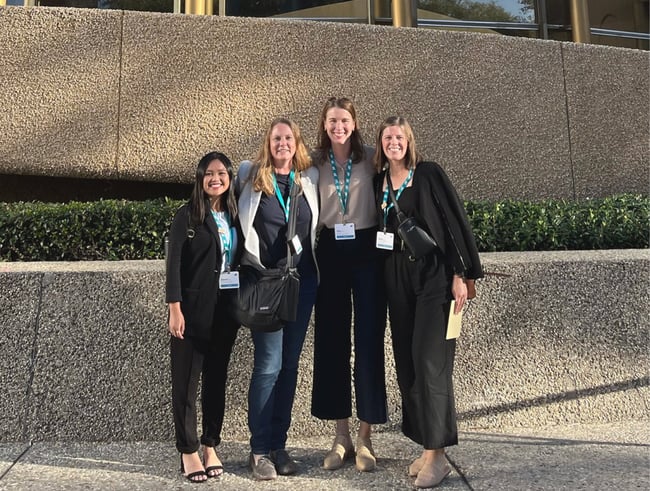 NM-ers outside the San Jose Center for Performing Arts.
4 Takeaways from WLS 2022
1. Pay Equity Remains a Top Priority
Pay equity remains a top priority for women in the profession, and many WLS discussions centered around the topic.
Jeanne Gang of Studio Gang discussed her firm's path to pay equity. In 2018, the UK government introduced legislation that required UK employers with at least 250 employees to publish information about the pay differences between men and women in their workforce.
The legislation inspired Studio Gang to measure their firm's pay equity, and to Jeanne's surprise, it wasn't as equitable as she imagined. This investigation led to action, and within one paid period, Studio Gang resolved the issue.
The talk emphasized the importance of transparency and encouraged attendees to speak up and ask questions about pay and leadership practices. There are many resources for measuring gender pay gaps, including step-by-step instructions from the UK government and a calculator from Dezeen.
2. Inclusive Leadership is for Everyone
Leadership—what it looks like and its goals—was a focal point of many WLS discussions.
One discussion centered around cultivating "inclusive leadership." Inclusive leaders are culturally intelligent, effective collaborators, and committed to diversity and continuous education.
This attitude is not limited to those at the top of an organization. Everyone has the potential to inspire, attract, and share knowledge and skills.
For architects, inclusive leadership is especially important. We are the leaders and guides of building projects and ought to bring a sense of advocacy to our work.
3. Values Govern Decision-Making
In one workshop, attendees were tasked with envisioning an ideal architecture firm. We answered either-or questions like:
Are we competitive or collaborative?

Do we value excellence or learning?

Do we view culture as a static set of behaviors or something that evolves?
One end of the spectrum was not necessarily better than the other. Instead, these questions were meant to spark conversation and help attendees explore their values. By having a better understanding of our firm's values, we can be more strategic with decision-making.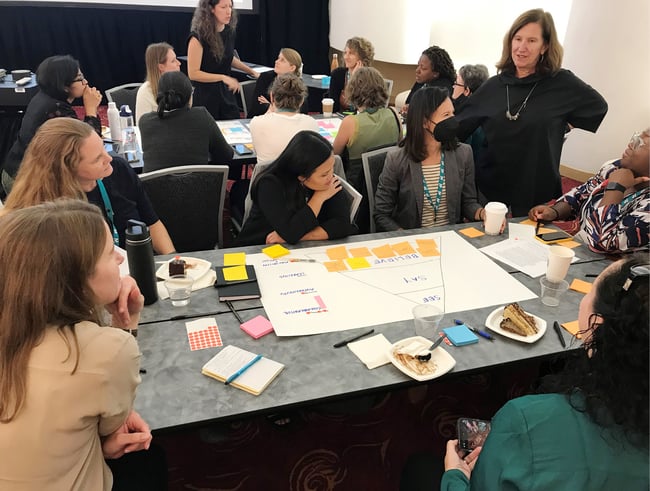 Conference attendees in a leadership workshop.
4. Equity is (Partially) a Design Challenge
A few sessions highlighted architects working in remote locations and bringing equity to communities.
In one talk, Emily Roush-Elliott, who works with communities in the Mississippi Delta Region, said, "Anywhere you don't typically see architects is the best place to go." Architects should engage different communities and seek opportunities to make an impact because everyone deserves good design.
Spatializing equity was a recurring topic in these discussions. It is important to ask questions like:
Who are you designing for and with?

How can you highlight a place's history?

How can you incorporate identity and people into the practice?

How can you represent equity in a physical space?
One approach is to rethink programming. For example, instead of a soup kitchen, create a food hall that can aid economic growth in a community.
Another approach is to become more interdisciplinary. Architects cannot address inequality alone. We should be working with activists, historians, lawyers, and other members of our communities.
Bringing Lessons Back to NM
WLS is not only a conference for women in the profession. It is an opportunity for everyone to come together and discuss issues that affect everyone.
These learning opportunities can help us better understand an architect's role in the community and how we can make a difference. After any conference, we share our takeaways with our teammates at NM to help elevate our work. Read about Angie Espinoza Vaquerano's takeaways from NOMA 2022 to learn more.