Constraints Drive Innovation: Our Iowa City Studio Renovation

How do you design a workplace that fits your values and budget? Over the last year, the Iowa City studio renovation team has been answering that question.
Redesigning our Iowa City studio has been a challenging experience. While meeting the project's ambitious goals, the team faced budget constraints, supply chain issues, and inflation.
But the project has also been a unique chance to test ideas and demonstrate our internal values. Rather than hindrances, the challenges of this project became opportunities for improvement—better positioning us to help clients in similar situations.
We are excited to announce that construction will start in May of 2023. This article will kick off the project by discussing its goals, challenges, and the design solutions developed by the team.
Project Background and Goals
Our Iowa City studio renovation grew out of a realization that our current space was no longer serving our needs. The way we work has changed dramatically since the studio was designed in 2005.
Once necessary spaces—like a file storage room—no longer fit our digital world. Workstations designed to hold architectural plan sets now feel oversized. The studio also lacks a dedicated space for bike storage and an area that truly accommodates model-making.
The pandemic highlighted additional issues. In an age of remote work, we rely on virtual meetings to collaborate with clients, consultants, and our teammates in Des Moines. Our current studio does not fit this type of interaction, creating acoustical problems.
At the start of the project, we set out to make better use of our space, find ways to increase collaboration and interaction, and better accommodate hybrid work. We also wanted to use Universal Design principles and create something truly accessible.
In addition to physical abilities, we aimed to accommodate different ways of working and thinking. Providing more choices would allow teammates to work in a way that best suits their needs and promote occupant health and comfort.
As we established priorities, we wanted a third-party, measurable standard to ensure accountability and excellence. The design team explored many building verification systems and found the Living Building Challenge (LBC) best aligned with our goals and values.
The LBC is the most rigorous and holistic building certification system—covering everything from energy consumption and material usage to accessibility. The framework aligned with our project goals and provided the direction needed to streamline our vision.
Challenges and Solutions
Renovations present plenty of challenges—and the Iowa City studio renovation has been no exception. The design team had to handle an opinionated client with high expectations (the Neumann Monson team) while managing a tight budget, supply chain issues, and inflation.
Ultimately, these challenges strengthened the project. The team had to think creatively and innovate, leading to solutions that can help clients facing similar challenges.
Designing for Your Peers
The Iowa City studio renovation team faced the challenge of designing a workplace for their peers and mentors. We value a democratic decision-making process, and the design team wanted everyone to feel a sense of ownership over the outcome.
Inevitably, this democratic process led to differing opinions and a surplus of options. Regular input from all team members, discussions with user groups, and benchmarking tours helped establish high-level goals that drove future decisions.
The studio also needed to accommodate different roles and work styles. The challenge was to design a space that works for both focused work and collaboration.
Downsizing individual workstations cleared space for a variety of working environments. Focus rooms fulfill the need for privacy, while communal areas at the front of the studio and along the perimeter encourage interaction.
A dedicated wellness room provides a space to rest, pray, or address other personal needs. Workstations also feature height adjustable desks, and we now have a dedicated space for making videos (check out our YouTube Channel).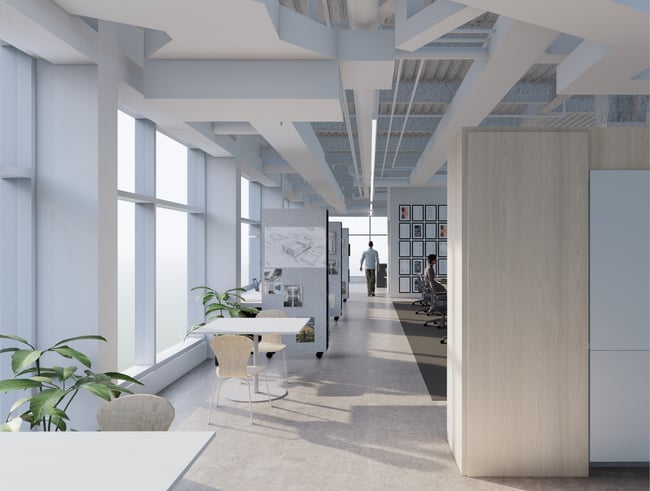 A mix of spaces accommodates different work styles.
Budget Constraints and Material Reuse
Like anyone undertaking a building project in 2023, the design team faced supply chain issues and inflation. Initial price estimates came back higher than expected, and the team needed to find a way to reduce costs while fulfilling the project's primary goals.
The LBC encourages material reuse, but the project's budget requirements pushed the design team to take this effort further. While working in the studio, the team had the chance to assess existing materials and find ways to give them a new use.
All person-sized glass will be reused in the new studio. Some glass panels will remain as space dividers, while others will get a new life as markerboards. Ceiling tiles will remain in select areas, like the model shop and conference rooms.
Built-in items will be reused as much as possible with lower countertop heights for wheelchair accessibility. No new doors will be purchased for the project.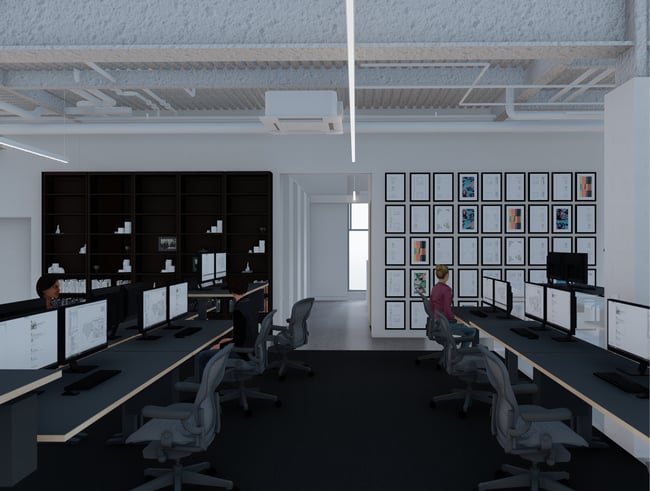 Built-in items, like the bookshelves, will remain.
When specifying new materials, the team used the International Living Future Institute's Red List and the AIA's Materials Pledge framework to prioritize human and environmental health.
The kitchen is one of the few areas to feature new materials. As the studio's main gathering space and focal point, it was the most impactful place to invest our budget.
The new kitchen will be made from locally sourced Eastern Iowa Ash. An invasive species—the Emerald Ash Borer—has killed Ash trees across the state. The renovation provided an opportunity to utilize this otherwise wasted lumber and pay homage to our local landscape.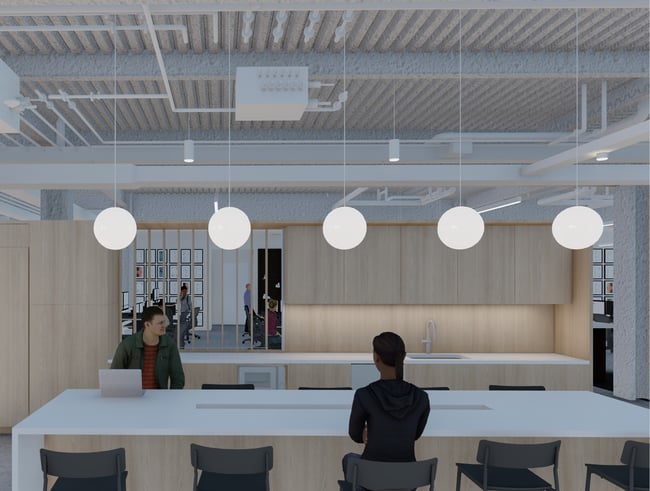 Kitchen made from Eastern Iowa ash.
Material Reuse and Embodied Carbon
While material reuse was not an initial project goal, it has become one of its main focuses. Ultimately, the project's budget constraints led to a more sustainable outcome.
The built environment is responsible for approximately 40% of global carbon emissions. Of that 40%, 13% are related to materials and construction. These emissions are known as embodied carbon.
Reducing embodied carbon is becoming one of the top priorities for the profession. While we can reduce a building's operational carbon, embodied carbon cannot be taken back. We've released emissions before we ever start operations.
Building and material reuse is the most effective way to lower embodied carbon. It reduces the emissions associated with extracting, manufacturing, and transporting new materials.
It also reduces construction waste and costs—especially when faced with inflated prices. Reducing the materials budget allows for an investment in project areas that have the greatest impact on operational emissions, like the mechanical system.
The Iowa City studio will include a Variable Refrigerant Flow (VRF) heating and cooling system—a more efficient option than traditional forced-air systems. The studio will also be fully electric, preparing us for a net-zero future.
Our studio renovation has been a chance to experiment with material reuse and see how far we can take it. The lessons learned will help us guide our clients and promote our belief that everyone deserves a better planet.
Learn More About Sustainable Design
The challenges of the Iowa City studio renovation led us to develop solutions that will benefit future projects. Constraints, we learned, drive innovation.
Currently, the project is on track to earn a Living Building Core Certification—meaning it will meet the ten core imperatives of the Living Building Challenge's petal system. However, material reuse and research may help us achieve a Petal Certification.
Living Building certifications are based on actual rather than expected performance and occur after the project's first operational year.
Core and Petal certifications are two of the five certification pathways offered through the LBC. Learn more by reading about the Living Building Challenge and its requirements.