Considerations for a Workplace Design Project

A successful workplace fosters productivity, collaboration, and creativity—but reaching this ideal is no small feat. Whether you are building a new office or renovating an existing one, there are many factors to consider.
In recent years, we've helped many commercial organizations—including MidwestOne Bank, GreenState Credit Union, and Kreg Tool—find design solutions that fit their operations and cultures. We've also started renovating our Iowa City studio, helping us better understand the challenges of a workplace design project.
In this article, we will explore some of the top factors business owners should consider before building or renovating a workplace, including:
Budget, Program, and Building Site

Growth Projections

Remote and Hybrid Work

Internal Culture

Operational Pains

Time Management

Change Management
After reading, you will better understand how to prepare for a project and the steps you may need to take before working with an architect.
Budget, Program, and Building Site
Every building project requires some preliminary work. Before starting schematic design, your architect needs to understand your budget, building site, and program—a list of necessary space and their sizing requirements. On a renovation, your architect will also need to verify existing conditions or access existing building drawings and documentation.
Some owners may choose to work with an architect to complete these elements. Services like feasibility studies, programming studies, and site selection can help you determine your needs and find the ideal location for your project.
Other owners may determine these elements with the help of a consultant before sending a formal Request for Proposal (RFP) to potential architects.
Each approach has its benefits and drawbacks. Working directly with an architect can lengthen the pre-design process but often results in more tailored solutions. For example, an architect can help you find a site optimized for your project while balancing the building's solar orientation, reducing your long-term energy costs.
No matter the approach, you will need to finalize these elements before starting design work.
Growth Projections
Your business is likely to grow and evolve, and your workspace should adapt to your changing needs.
An architect can help you plan for growth. They may create open, flexible interior layouts that allow you to accommodate more people, or they may design the floor plan and utility connections to allow for easy additions and expansions.
In some cases, the design team may recommend master planning services to help form a long-term development plan.
To ensure your workspace caters to your changing needs, determine your potential growth before starting your project. Supplying your architect with accurate growth projections can help them find a customized solution.
Remote and Hybrid Work
The Covid-19 pandemic left a lasting effect on the workplace. Many organizations have embraced remote or hybrid work models, presenting an opportunity to reinvent the traditional office.
In coming years, more commercial space may become available as leases expire for companies that have transitioned to fully remote models. This is an opportunity for your organization to examine your approach to work, your spatial needs, and how you want to use office space moving forward.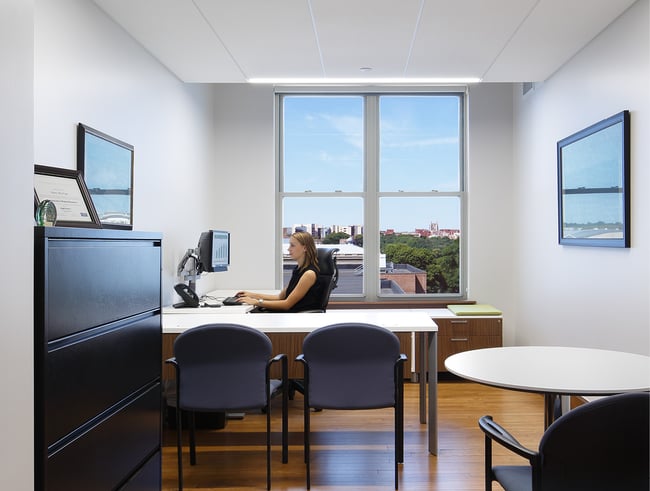 Understanding remote work helps employees optimize time in the office.
For some, the office is becoming a hub for teaching, learning, and culture-building. Occasional time in the office may be necessary to maintain collaboration and teamwork.
Getting a clear understanding of your organization's approach to remote work can help your design team develop solutions that optimize your employees' time in the office.
Your Internal Culture
As the office evolves into a hub for team-building, a project can be an opportunity to reinvent or enhance your organization's culture.
The best approach is to engage your team in the design process through visioning workshops and planning exercises. These activities allow your team to voice their opinions and form a collective vision. They can also help your architect better understand your operations and the structure of your organization.
Ultimately, your team is your greatest asset. Engaging them in the process cultivates collective buy-in and leads to decisions that improve productivity, retention rates, and talent attraction efforts.
Operational Pains
A workplace design project can also be an opportunity to address operational pains and develop new practices that improve productivity.
For example, Kreg Tool's manufacturing and administrative staff previously operated out of separate buildings, creating communication challenges. The new building resolves this issue by placing all departments under one roof and providing centralized meeting spaces.
Likewise, acoustical distractions during video calls were a common problem in our Iowa City studio. The renovated space will address this issue by providing a range of spaces, including focus rooms where individuals can take calls and escape distractions.
Identifying problems is crucial to developing effective solutions. Before starting your project, ask yourself:
Where is my team losing efficiency?

What are the most common complaints we hear from employees?

Where are we losing money?

How can we create a better experience for our customers/clients?
At the same time, identify your strengths or practices that generate revenue. Your architect can also help you find ways to build upon your successes.
Time Management
Building projects are a large undertaking, often requiring time outside your everyday responsibilities. Throughout the design process, you can expect regular meetings with your design team to discuss design options and make selections.
Your time commitment will vary depending on the project stage. In Schematic Design and Design Development, you can expect to meet with your team bi-monthly. Meetings may be more frequent, however, depending on the project's complexity.
While scheduled meetings may become less frequent during the Contract Documents phase, regular communication remains essential. Learn more by reading about a client's time commitment during the design process.
To prepare, we recommend establishing a core group of decision-makers who will attend meetings. You should also select a point person who will maintain communication with your project manager. Establishing these workflows from the onset leads to a smoother design process.
Change Management
Lastly, consider how you will lead your team through the project. A building project can disrupt day-to-day operations and hinder productivity, especially if you change locations. As such, it helps to form a change management plan.
Change management is a communications strategy that helps your team identify with their new environment and adapt to new practices. It establishes expectations, reduces fears and anxieties, and creates a smooth transition.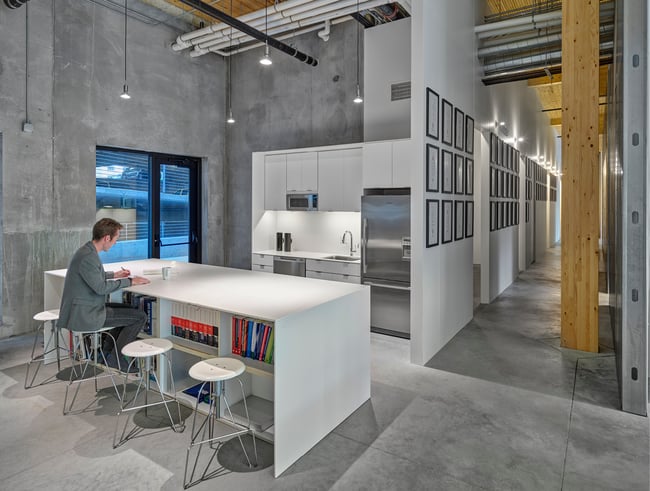 Change management can help employees make the most out of the new space.
This strategy may involve updating your team at project milestones, hosting building tours throughout construction, coordinating move-in, and answering employees' questions.
Depending on the scale of your project, you may hire a third-party consultant or appoint an internal team to usher your organization through this transitional period.
Learn More About Workplace Design
Workplace design projects present unique challenges that go beyond budgets and schedules. Effective outcomes require careful consideration of your operations, culture, and approach to work.
Before starting your project, consider your growth, evolving needs, and how remote work will impact your use of the space. At the same time, be mindful of the time commitment and establish workflows to guide your team through this transition.
Once you start working with an architect, you can start engaging your employees and developing solutions that fit their needs. Many organizations are considering neurodiversity and different ways of thinking and learning when making these decisions. Learn more by reading about neurodiversity and design.